September 1, 2021 – West Bend, WI – The numbers are in. Between July 23 and August 6, a total of $20,725 was raised by the community in support of the four children of the late Craig and Stephanie Pearson.
The six McDonald's Restaurants of Washington County, owned and operated by Kilian Management Services, have contributed an additional $10,000, bringing the grand total to $30,725.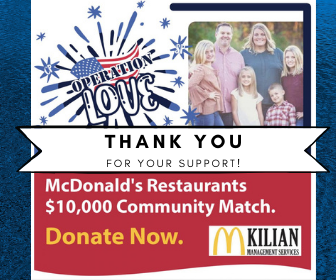 All funds have been deposited into the "Pearson Family Kids" account which will help cover living and educational expenses for the children, who range in age from 15 to 9 and have had to deal with the death of both parents within two years of each other.
Through McDonald's "Operation Love," donations were accepted at the counter, and the Marines even got involved collecting funds on the first weekend of the fundraiser. Posters in the restaurants encouraged the community to donate online.
In a big surprise, one generous individual who prefers to remain anonymous heard about Operation Love and sent in a $10,000 check, which ultimately met the challenge for the McDonald's match.
"We continued to be amazed at the generosity of the community, and we couldn't be more appreciative of the Kilians for helping us continue to spread the word," said Scott Stortz, a Pearson family friend. "If the anonymous donor is out there and reading this, we want this person to know how meaningful this gift truly is and you have our commitment that every dollar will work hard for these kids."
Donations continue to be accepted on behalf of the family: Check: "Pearson Family Kids" – PO. Box 287, Slinger WI 53086