March 29, 2019 – West Bend, WI – Mike Darrow, President and Chief Operating Officer of the Russ Darrow Group, has been elected chairman of the Wisconsin Automobile & Truck Dealers Association (WATDA) for 2019.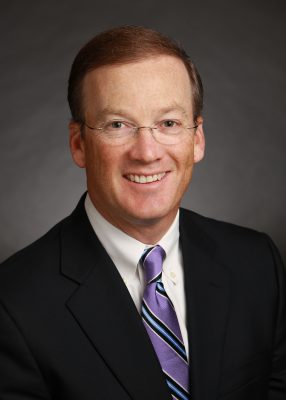 The WATDA provides advocacy for both licensed franchised and independent dealers with manufacturers and regulatory agencies. WATDA members follow criteria prescribed by state agencies to protect consumers and dealers, plus constantly enhance their communities through many philanthropic endeavors.
"I was taught from the beginning by my father to be involved with the manufacturers and industry associations, just as he was throughout his career," Darrow said. "It was one thing to be a part of a dealership, but it was another to be a part of the dealership community.
"Building relationships throughout the industry, both locally and nationally, while having an impact on the issues of the day, was a priority for my father and more recently for me," he said. "My priority is to uplift the Russ Darrow Group and through example, mark the importance of leadership. I feel an obligation to represent the 1,000+ employees in our company, in the best possible way, by being involved."
A graduate of Miami University of Ohio, majoring in Business Finance, Darrow began his journey into the auto industry full-time in 1990. He graduated from the National Automobile Dealers Association (NADA) Dealer Candidate Academy, advancing his career through many leadership positions at several Darrow dealerships, ultimately settling at the company's corporate office.
Throughout the years, Darrow has served on countless manufacturer advertising association boards and dealer councils, including a 10-year stint on the Automotive Dealers Association of Mega Milwaukee board, ultimately earning the chairman position. Darrow recently completed multi-year terms on both the Toyota and Kia Regional Dealer Councils. He also currently serves on the Board of the American International Automobile Dealers Association.
Russ Darrow Group, headquartered in Menomonee Falls, is Wisconsin's all-time volume auto retailer since 1965. Russ Darrow Group owns and operates dealerships in Milwaukee, Appleton, Green Bay, Madison, Waukesha, Wauwatosa, West Bend, and Greenfield representing Chrysler, Jeep, Dodge, Ram, Toyota, Honda, Nissan, KIA, Mazda, and Mitsubishi. With over 1,000 employees, the company also operates a nationwide fleet and leasing business and has its own in-house financing company.