Moonlighting in Barton temporarily closed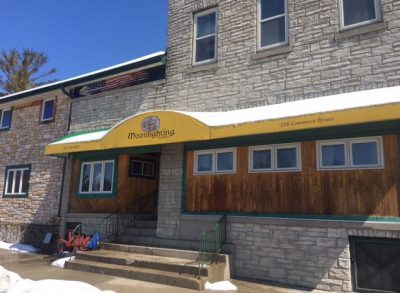 April 23, 2018 – Barton, WI – There's a note on the door at Moonlighting, 326 Commerce Street in Barton. It says the establishment is closed because of a licensing issue.
According to consultant Jay Stamates, the Department of Revenue came in earlier this month and shut them down, April 17.
"This is a cherry-picked moment and I'm not sure why," said Stamates. "It's normal business practice to buy the business (bar/restaurant) and then ride the previous agent's liquor license until the next license comes due."
Stamates said licensing throughout most of the state is done on an annual basis during the summer months. He said, "a lot of smaller business owners can't afford the $1,000 pro-rated Class B license for a couple months."
"When Chad Goeman came in and took over Moonlighting he was riding the Class B license of the previous owner," said Stamates. "That's common practice but there's some law that says a person can not go for sole proprietorship through an LLC with the same agent."
Why this was technically illegal, according to Stamates, was because the previous owner had Moonlighting set up as a "sole proprietorship.
Both Goeman and Stamates are questioning why a letter of notification was never sent by the state prior to closing.
"If they had sent a letter Mr. Goeman would have immediately begun work to establish his own agency," Stamates said.  "This is simply a government paperwork mix up that is riding on the back of an archaic law that literally very few people even know about."
Calls have been placed to the state Department of Revenue. A response will be posted when available.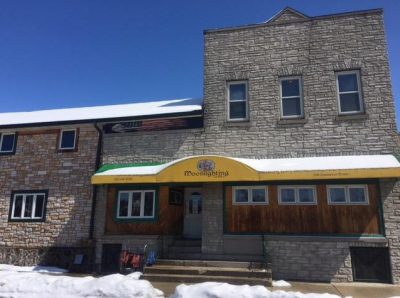 Moving forward, the West Bend Common Council will meet May 7 and review the license. Moonlighting should be able to reopen May 8.
On a side note: Prior to leaving office Dist. 7 alderman Adam Williquette asked if the council could meet in special session to try and hurry-up the process.
City clerk Stephanie Justmann said the license request has to be at the clerk's office for 15 days, so that nixed any thought of trying to call a special meeting and get Moonlighting opened by Tuesday, May 1.
"Mr. Goeman is incredibly pleased and happy with the cooperation of the city through all of this," said Stamates. "The city has a very pro-business attitude and they understand there are a lot of employees (22) that have been affected by this and left in the lurch."
When Moonlighting does reopen it will unveil a new name and menu. "We'll throw some sort of grand reopening party with drink specials," said Goeman.