West Bend, WI -The Museum of Wisconsin Art (MOWA) announces the Wisconsin Visual Art Achievement Awards (WVAAA), which are held biennially to honor individuals and organizations that are significantly enriching the visual arts of the state. The award ceremony on February 29 is a celebration of those honorees. A reception will follow the ceremony with opportunities to meet the honorees and enjoy light refreshments.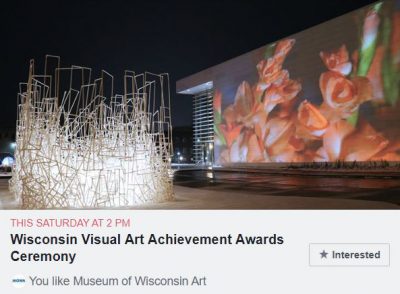 Over the last two years, the Wisconsin Visual Art Achievement Awards (WVAAA) has been restructured by the organization's three founding institutions (Wisconsin Visual Artists, Museum of Wisconsin Art, and the James Watrous Gallery) in an effort to more meaningfully support and recognize working artists in the state.
While the awards originally focused on an individual artist's contributions over an entire career, the awards have been refocused to recognize achievement at various stages of an artist's career and in related professional areas that are often overlooked for recognition such as youth education, community arts advocacy, exhibitions, and arts writing.
The following seven award categories have been established:
Legacy (awarded for lifetime achievement)
Educator (K-12)
Educator (university or college)
Exhibition (awarded collectively to the institution, curator, and artist(s) if applicable)
Community Arts Advocate
Arts Writing
Emerging (awarded to a promising newcomer or recent graduate)
2020 Award Categories and the Honorees:
Legacy             Anne Kingsbury, Milwaukee Artist
Educator (K-12)             Patricia Frederick, Pius XI High School, Milwaukee
Educator (University)             Kim Cosier, Peck School of the Arts, UW-Milwaukee
Exhibition             Racine Art Museum for 2019 RAM Artist Fellowship Exhibition
Community Arts Advocate Polly Morris for the Mary L. Nohl Artists Fellowships Program
Arts Writing Shane McAdams for art criticism in the Shepherd Express
Emerging Artist             Ariana Vaeth, Milwaukee Artist, recent MIAD graduate
Event Date:  Saturday, February 29, 2020 | 2 p.m. – 3:30 p.m.
Location: Museum of Wisconsin Art, 205 Veterans Avenue, West Bend, Wisconsin 53095
Photography:  Photography of award winners is available upon request.
Admission:  There is no cost to this event. Walk-ins are welcome.
Support:
The WVAAA is made possible through the generous support of the Museum of Wisconsin Art, all three chapters of the Wisconsin Visual Artists, and Wisconsin Academy of Sciences, Arts and Letters.
Awardee Short Bios.: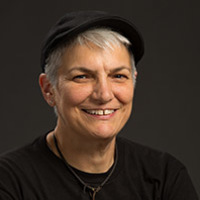 Kim Cosier is Director of Community Engagement and Professor of Art Education in the Peck School of the Arts at the University of Wisconsin-Milwaukee, where she has been happily teaching since 2001. She is a member of the activist art collective the Art Build Workers and she is founder and director of the Milwaukee Visionaries Project, an award-winning media production/literacy program for urban youth. With her wife, Josie Osborne, she is also a founder of ArtsECO, a program to develop teachers as change-makers that is backed by a strong and sustainable community of arts organizations, nonprofits, and K-16 school partnerships. Cosier's research and teaching interests focus on art and education for social justice, particularly related to intersecting cultural and social factors including gender, race, sexuality, and class.
Patricia L. Frederick received a BFA from St. Norbert College and an MFA in painting from the Maryland Institute College of Art. Since 1977, she has taught art at Pius XI High School where, as department chair, she led the art program to national prominence. Her work as a teacher has earned numerous regional and national awards, including Teacher of the Year from the International Network of Performing and Visual Art Schools and Distinguished Teacher from the White House Commission on Presidential Scholars. She is a past president of the Milwaukee Area Teachers of Art and, for many years, served on the regional Scholastic Arts committee. The community of practice that Frederick and her colleagues have built at Pius has been the subject of two doctoral dissertations and has supported countless students as they have learned to give visual form to their individual voices.
Anne Kingsbury's entire life has been spent in various forms of the arts. Kingsbury holds an MFA degree. Along with her husband Karl Gartung, in 1979 she cofounded Woodland Pattern Book Center, serving as the executive director until retiring in 2018. In more than 50 years as a working/exhibiting artist, Kingsbury has used a variety of forms and techniques that rely on hand work: journals of daily activities, printmaking (woodcuts), mixed media—combining clay and leather in large hand-sewn quilts and wall hangings, and beading text and drawings as a way to explore narratives of women's work. Kingsbury's work has been featured in numerous publications, including Robert Shaw, American Quilts; the Democratic Art, 1780–2007 (2009). She has participated in more than eighty-five exhibitions, and her art is included in the collections of the Milwaukee Art Museum and the Beinecke Library at Yale. Kingsbury was named a Wisconsin Academy Fellow in 2008.
Shane McAdams is an artist, writer, curator, and educator residing in Cedarburg. His artwork has been exhibited in New York at Allegra LaViola Gallery and Marlborough Gallery; Elizabeth Leach Gallery in Portland, Oregon; Scream in London; and Artistree in Hong Kong.  His work has been reviewed in Vogue Magazine, The New York Times, The New York Observer, The Huffington Post, and The Village Voice. McAdams has taught at the Rhode Island School of Design and Marian University. He is a three-time Creative Capital, Andy Warhol Writer's Grant finalist, and his work appeared regularly in the Brooklyn Rail from 2002 to 2012. He has been a contributor to The Milwaukee Journal Sentinel and currently writes for the Shepherd Express. He also runs REAL TINSEL a gallery in Milwaukee's Southside.
Polly Morris is the executive director of the Bradley Family Foundation and the Lynden Sculpture Garden in Milwaukee, which since May 2010 has operated as a laboratory at the intersection of art and nature for artists, teachers, students, and the general public. Morris has administered the Greater Milwaukee Foundation's Mary L. Nohl Fund for Individual Artists Fellowship program since its inception in 2003, and she serves as the chair of the public art subcommittee of the City of Milwaukee Arts Board. She also spent nearly a decade directing Danceworks, an organization she cofounded in 1992; and another decade at the Peck School of the Arts at the University of Wisconsin-Milwaukee, where she indulged her passion for cross-disciplinary programming. She holds a PhD from the Center for the Study of Social History at the University of Warwick in England.
Launched in 2012, the Racine Art Museum Artist Fellowship program has progressed through four cycles and has awarded sixteen artists to date with a stipend and a place in the biennial RAM Artist Fellowship Exhibition held at RAM's Wustum Museum. The exhibition is designed to highlight the work of artists, who live and work in the vibrant communities of Racine and Kenosha Counties. Jurors select artists based on their individual careers but also with an eye to the group so that different bodies of work play off each other in the exhibition's installation. An ongoing goal of the RAM Artist Fellowship program is to honor and also nurture artists in the community—building and expanding opportunities and resources for a growing and, hopefully, more and more diverse group of artists.
Ariana Vaeth grew up in Baltimore, where early on she focused on contemporary realism through the vehicle of the self-portrait. A graduate of the Milwaukee Institute of Art and Design (MIAD), she fulfilled an exchange program at the Maryland Institute College of Art, then returned to MIAD to complete a studio-based artist-in-residence program. Her work has been shown widely in Milwaukee and in Chicago at Woman Made Gallery and in the "2018 Black Creativity Juried Artist Exhibition," held at the Museum of Science and Industry. Vaeth is a 2017 Mary L. Nohl Fellow in the Emerging Artist category. She was an inaugural recipient of Fellowship.Art, a privately funded grant and twelve-week accelerator program modeled on Gener8tor's accelerator program for creative entrepreneurs. Her work recently appeared in the 2019 Wisconsin Triennial at the Madison Museum of Contemporary Art. Vaeth will have a solo exhibition at the Lynden Sculpture Garden in July 2020.
The Museum of Wisconsin Art (MOWA) is the place for art and the art of place. Its "Everyone's a Member" model welcomes each visitor to the museum as a member. It's a model that defies the idea that museums are exclusive or elitist. Museum admission fees are actually low-cost memberships that allow unlimited access to the museum for a full year.  This philosophy encourages frequent participation in 20 rotating exhibitions and 175+ free-for-member programs that take place throughout the year. The result is a welcoming and engaged community—a community where everyone is a member.
MOWA explores the art and culture of Wisconsin. Founded in 1961, the museum's permanent collection consists of over 5,000 works of contemporary and historic art by more than 350 Wisconsin artists. The 32,000-square-foot wedge-shaped structure opened in 2013 and houses five permanent collection galleries and four temporary exhibition spaces, as well as classrooms, visible art storage, a shop, and a large atrium for public events.
The museum overlooks the Milwaukee River and is situated along the Eisenbahn State Trail. In 2018, the surrounding four-acre green spaces transformed into spectacularly landscaped gardens, featuring a tree-lined field for activities and festivals, 750 quaking aspen trees, 1,200 hydrangea plants, several outdoor sculptures, and interconnected walkways perfect for wayfinding or meandering to nearby shops and restaurants. It's a must-see destination in the heart of downtown West Bend.