West Bend, WI –  The Museum of Wisconsin Art (MOWA) is pleased to announce the upcoming exhibition, Charles Munch: Between the Lines, which features 30 works from four decades curated by Director of Exhibitions and Collections Graeme Reid.
The exhibition will open with a party on Saturday, Jan. 19 and will provide an opportunity to meet the artist.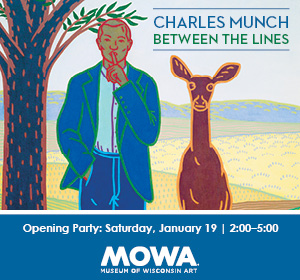 For almost 40 years, Charles Munch has lived on 220 acres of pristine forest and grassland close to Lone Rock in Wisconsin's Driftless region. Drawing inspiration from his untamed surroundings, Munch has established himself as one of the most insightful artists working today on environmental issues in Wisconsin. "I want my works to stimulate conversation and to encourage a variety of viewpoints."
Between the Lines features 30 paintings from four decades that trace Munch's evolution from pure landscape painting to vividly imagined narratives that explore the often complex relationship between humans, animals, and their interactions within nature. It is, in fact, the presence—and interaction—of humans and animals that take center stage in his dramatic vignettes. At times, his human and animal characters interact harmoniously, but are often threatened or confrontational and the outcome is uncertain.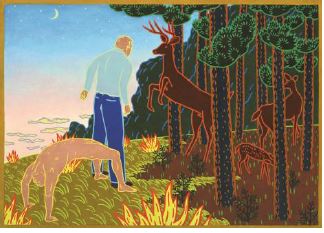 "Now, more than ever, Munch's paintings are relevant to our relationships with the natural world. He encourages us to re-examine our engagement with our environment in a way that is both subtle and forceful," said Curator Graeme Reid.
Munch's paintings are deceptively simple. Since the early 1990s, the artist's painting style has shifted from a traditional realism to a linear and graphic style informed by comic books and commercial advertising. Bright colors, clearly defined lines, and bold, readable subjects define his current work. Superfluous detail is eliminated and each painting is carefully composed with the landscape as the principal backdrop for an unfolding narrative that often has the visual punch of a graphic cartoon though with none of the inherent humor.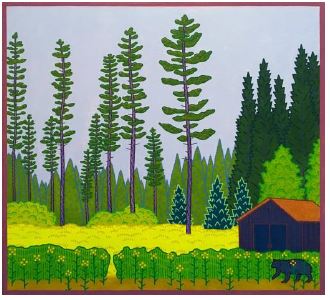 "Over the last three decades, his reputation has increased steadily in the state with a growing body of work and a number of significant exhibitions to his credit. A museum exhibition that positions him and his work within the larger context of environmental art and issues was definitely long overdue," said MOWA Executive Director | CEO Laurie Winters.
"Between the Lines is the first major museum exhibition of Munch's work in well over a decade."
Image credits: Charles Munch, Hush!, Oil on canvas, 2002; Charles Munch, Bear Country, Oil on canvas, 2017, Lent by Kristen Bernard and Rik Ezell; Charles Munch, Boundary Issues, 2003, Lent by Ted Haglund
EXHIBITION ACTIVITIES
CHARLES MUNCH: BETWEEN THE LINES On View: January 19–March 10, 2019 Museum of Wisconsin Art | Hyde Gallery Free with membership or $15 (includes complimentary membership for one full year)
The full-color exhibition catalogue, Charles Munch: Between the Lines, is available for purchase in the MOWA Shop and for free online as a digital download. Charles Munch is represented by Tory Folliard Gallery and Abel Contemporary Gallery.
WINTER EXHIBITIONS OPENING PARTY Saturday, January 19 | 2:00–5:00 Celebrate the opening of Charles Munch: Between the Lines and Chris Maddox: Atlas Chronos. Meet the artists and enjoy art making, live music, light bites, and a cash bar. Free with membership or $15 (includes complimentary membership for one full year)
MEET THE ARTIST Saturday, February 2 11:00–12:00 | Casual Conversations with Charles Munch 2:00–3:00 | Artist Talk and Book Signing with Charles Munch Free with membership or $15 admission (includes complimentary membership for one full year) CURATOR TALKS Tuesday, February 12 | 10:30–11:30 Saturday, February 23 | 11:00–12:00 Attend a lively talk by Curator Graeme Reid on the work and life of artist Charles Munch. Free with membership or $15 (includes complimentary membership for one full year)
EXHIBITION SUPPORT Support for 2019 exhibitions is generously provided by James and Karen Hyde, Greater Milwaukee Foundation, Pick Heaters, Inc., and the Wisconsin Arts Board.
MEDIA CONTACT Jessica Wildes, 262-247-2266, [email protected]
ABOUT THE MUSEUM OF WISCONSIN ART
Everyone's a member at the Museum of Wisconsin Art (MOWA). The concept is rather simple: welcome everyone to the museum as a member. It's a model that defies the idea that museums are exclusive or elitist. Instead, museum admission fees are actually low cost memberships that allow unlimited access to the museum for a full year. This philosophy encourages frequent participation in 18 rotating exhibitions and 175+ free-for-member programs that take place throughout the year. The result is a welcoming and engaged community—a community where everyone is a member.
MOWA explores the art and culture of Wisconsin. Founded in 1961, the museum's permanent collection consists of over 5,000 works of contemporary and historic art by more than 350 Wisconsin artists. The 32,000-square-foot wedge-shaped structure opened in 2013 and houses five permanent collection galleries and four temporary exhibition spaces, as well as classrooms, visible art storage, a shop, and a large atrium for public events.
The museum overlooks the Milwaukee River and is situated along the Eisenbahn State Trail. In 2018, the surrounding four-acre green spaces transformed into spectacularly landscaped gardens. The MOWA Gardens feature a tree-lined field for activities and festivals, 800 quaking aspen trees, 1,200 hydrangea plants, several outdoor sculptures, and interconnected walkways perfect for wayfinding or meandering to nearby shops and restaurants. It's a must-see destination in the heart of downtown West Bend.