Music on Main lineup set for 2016!
A big year is on tap for Music on Main in downtown West Bend. The Thursday night music jam on Main Street kicks off with the grand opening of the newly designed Old Settlers Park.
The headliner that night, Thursday, June 2 will be The Now Band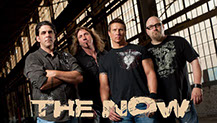 Other main stage acts throughout the summer include:
June 9 – Back Alley (Blues rock)
June 16 – Ol' Style Skratch ( Blues & rock)
June 23 – FM Rodeo (Country) sponsored by Albiero Plumbing
June 30 – Pink Houses (Heartland Rock) sponsored by Habush, Habush, & Rottier S.C.
July 7 – Copper Box (Americana) sponsored by Ziegler
July 14 – Riding Shotgun (Rock/Pop/Country) sponsored by West Bend Harley-Davidson
July 21 – Kojo (Reggae) sponsored by Jamaican Tourism Board
July 28 – Pat McCurdy  sponsored by Horicon Bank
August 4 – Liquid Crush (Pop) sponsored by West Bend Lithia Beer Co.
August 11 – Five Card Studs (70's AM gold)
August 18 – Whiskey Belles (Country)
August 25 – Saving Savannah (Country)
September 1 – Illusion (Classic rock)
Music on Main is organized by the Downtown West Bend Association.
Other events run by the DWBA include the Farmers' Market, Downtown Dash, Wheels on Main, Banner Art Walk, Fall Fest, and this year the Downtown West Bend Criterium sponsored by Delta Defense.