West Bend, WI – Washingtoncountyinsider.com is looking back at some of West Bend's favorite stories. This uplifting love story was shared in 2016 and it continues to this day.
There's a familiar couple that walks arm in arm around West Bend; their pace is steady, their love is evident:
Nancy Schultz and Jerry Cash.
Cash and Schultz – it sounds like a country-western band.
"We met one another at The Threshold 34 years ago and we've never had an argument," said Jerry.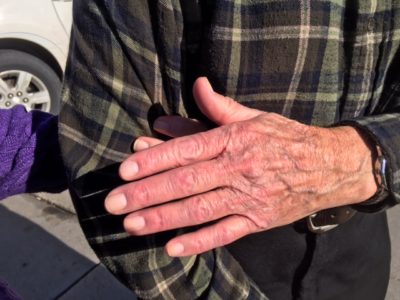 At 80 years old Jerry is sharp and spry, and he tells it like it is.
He holds on to Nancy's arm while they walk so she doesn't stumble and fall.
Nancy, 66, said she holds onto Jerry because she loves him.
Jerry graduated from Barton Grade School 66 years ago. "Then I went to work on the farm with my parents," he said. "I'm an old-time West Bender."
Several years ago Jerry volunteered his time at The Threshold. "I sat down next to Nancy to talk to her and she said 'I'm not even going to look at you,'" he said, recalling his first meeting with the love of his life, "And now look at us."
The couple belongs to Good Shepherd Church in West Bend. Nancy embroiders makes colorful tablecloths with butterflies and she collects church bulletins. "If you have any church bulletins or tell your parents to save their bulletins for us," she said. "I save them and when it's raining or icky outside I take a hand full and read them."
Nancy and Jerry talk about the simple things in life. Nancy said they have a washer and dryer at their house, they have a brand new vacuum, and she likes watching birds.
Nancy reaches out and tenderly strokes the back of Jerry's head. She readily expresses her genuine love for him.
"I sing him beautiful songs," said Nancy.  "The Polish Lullaby, May you Never be Alone Like Me and What a friend we have in Jesus."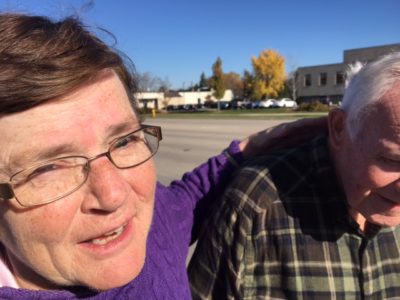 Jerry said he loves Nancy because of what she can do. "She can cook, she can bake, she's always got a wonderful smile, she talks very politely to everybody and she likes children," he said.
Ten years ago, Jerry wrapped up a 15-year career working at the Old Fashioned Bakery. "Rich Schommer was my boss," he said, "I went in late at night. I made donuts, bread, everything.. you name it."
The pair are walking on a sunny Sunday to McDonald's for supper; it's about 11:30 a.m.  "I really like their salads," said Nancy.
McDonald's is an easy jaunt for the couple who walk from their home on East Decorah Road across from the high school. "We'll walk to Walmart and back," said Jerry, "That's about 10 miles, and sometimes we even walk out to Burger King."
During lunch, Nancy talks about her sisters, how her father has died and how her mother can't wait to join him.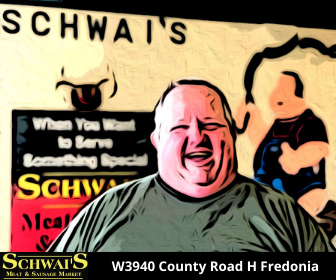 And then the conversation shifts to polka.
"We love polka," said Nancy. The pair listens to the music Sunday morning on the radio. "I listen every day, every day," she said, "We have cassette tapes and we listen and we embroider and then when 10 o'clock comes we close up shop for the night because then it's time to go to bed."
As I wrap up my visit, the couple make a simple request.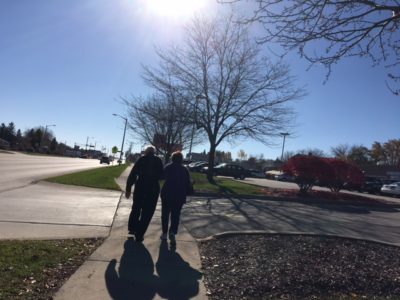 "If you see any polka music or nature tapes, just put it in the bag next to our door and mark it Schultz and Cash," said Nancy. "We just love polka music and this has been such a good day because I can't believe you took our picture."