Neighbor in Town of Addison calls Washington Co. Sheriff about wolf in his yard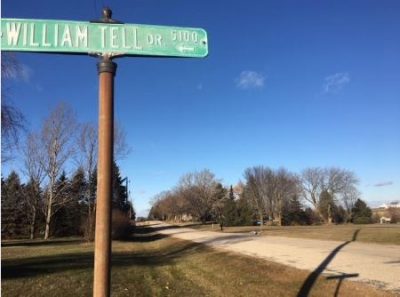 Dec. 8, 2017 – Town of Addison, WI – Washington County Sheriff's got a call Saturday morning about a wolf in a field on William Tell Drive in the Town of Addison.
"The homeowner said they thought they saw a wolf," said Deputy Brian Herbst.  "It was out in the farm field behind their house; it was just laying in the field."
Deputy Herbst and the homeowner approached it and got within 75 yards and the animal ran off. After it got about 100 yards away it turned around and laid down again.
"We stood and watched a bit, my sergeant came out and said 'Yup… looks like a wolf.' We approached it to make sure it wasn't hurt and it moved away again and then it laid down," Herbst said.
The homeowner said he had seen a wolf before in his field, about a year or two prior. Herbst said he too had seen wolf but "never down this far."
Herbst contacted the DNR but all of them were busy that morning.
Warden Joe Jerich did follow up and talked to the Deputy on scene. "I asked if he could approach the animal to see if it was injured and then it ran off," said Jerich.  "We want to give him a chance to survive if he can and if it was injured we've have to make a decision how to handle it."
Currently nobody from the DNR has seen the wolf. Both Deputy Herbst and the land owner said it was much larger than a coyote, even if it would have been a coyote with its fur primed out.
"Wolves could show up in this county but it's highly unlikely," said Jerich.  "Their range is generally to the north but coyotes are really common in this county and when their fur is primed out in this weather they look a lot bigger.
Deputy Herbst said the homeowner found wolf scat in his yard.
"I haven't had any other calls," said Jerich. "We'll have to see if it turns up again."