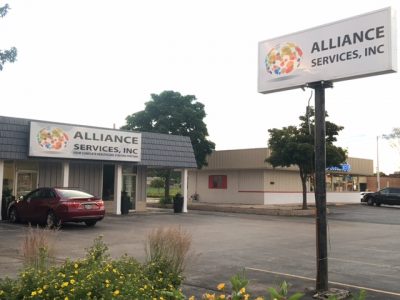 June 22, 2017 – West Bend, WI – The new sign for Alliances Services, Inc. went up this week at 910 S. Main Street in West Bend.
The health care staffing firm recently relocated from the Industrial Park in Jackson into the former Ol Tyme Cleaners building.
"We staff long-term facilities including Cedar Community, Lasata, The Pavilion at Glacier Valley in Slinger and major hospitals in Wisconsin including Aurora, Ascension and University of Wisconsin Hospital," said owner and director of nursing Georgianna Dee.
Alliance Services, Inc. has been in business 17 years. Dee said they have between 100 active staff and over 300 in their data base.
"I used to live in West Bend and when I saw there was a building available I got excited because I like the community, especially the restaurants," said Dee.
For more information on Alliance Services click HERE.
On a side note: It was
May 15, 2017
when WashingtonCountyInsider.com first posted a story about the new Alliance Services business coming to town.
Do you remember the Ol Tyme Cleaners? What family ran this business?