No. 1 West Bend Bombers extend winning streak defeating Fond du Lac Bears. By Christine Larson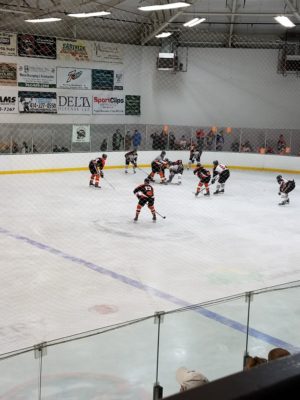 Feb. 26, 2017 – West Bend, WI – West Bend Bombers (17-3-0) skated away with a 5-3 win over the Fond du Lac Bears (12-5-2-1) Saturday night at the Kettle Moraine Ice Center.
The Bombers are coming off a 8-3 win Friday night against the Eagle River Falcons. Fond du Lac lost its Friday game 5-4 against Monroe Blues in a shoot out.
In the net league-leading Bill Sias, stopped 24 of 27 shots on goal.
Bombers scorers: Tomas Jilemenicky-goal and an assist; Tanner Tryggestad-goal; Dusty Jonasson-goal; Cole Weiser-goal; Jarred Lucas-goal.
Point getters with assists were: Steve Klug, RJ Rick, Dan Shilts, Andy Parrot and Shay Klitzke.
The West Bend Bombers currently have a 9-game win streak and are showing no signs of stopping going into next weeks match ups against Fox Cities Ice Dogs Friday, March 3 at home and De Pere Deacons Saturday, March 4 in De Pere.
Friday night at the Kettle Moraine Ice Center is Cow Bell and Truck Drivers night. Bring a cow bell or truck driver ID and get in for $3.