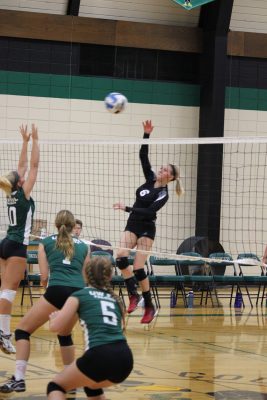 Sept. 29, 2017 – Washington Co., WI – The Lady Wildcats won a non-conference game against UW-Rock County  25 – 8, 25 – 10, 25 – 11
"The team continues to focus on good strong serves, as a team we serve 94% (64 out of 68 attempts) and set a team record of 29 ace serves," said coach Deb Butschlick.  "Everything was working when it came to serving.  The players served hard and with accuracy.  Alley Weix led the team with 13 ace serves; a personal season high."
The second focus was to run the offense with preciseness.  Kayla Schommer is continuing to improve on her setting accuracy to keep the offense strong. Schommer finished with 32 assists for kills.  This match was played with a relaxed feel which helped the team slow down the game and execute each skill to it's full potential.
Courtney Peters had 9 kills, and 4 ace serves
Alley Weix had 7 kills, and 15 digs
Meghan MacFarlane had 5 kills and 8 digs
Catherine Tucker had 4 ace served and 13 digs
UW-WC is 7 – 1 overall and 2 – 1 in the WCC Eastern Division.
The Wildcats next match is Monday, Oct. 2 against UW-Manitowoc at 6 p.m.