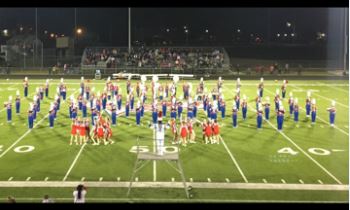 Sept. 29, 2017 – Slinger, WI – The Slinger Owls had a successful weekend of football.  Thursday night the JV2 team traveled to West Bend to take on the Spartans JV 2 team. The Owls went home with its first win in two years with a 24 – 21 victory.  In the meantime the Slinger JV team hosted the Burlington Demons with a decisive win of 38 – 19.  Luke Wetherall for Slinger made four Point After Tries and a touchdown in the second quarter.  Leading scorer for Slinger was Travis Dufour with two touchdowns.
To finish of the football weekend Slinger hosted West Bend West for the 2017 Homecoming Game following an entertaining and well participated parade.  All the scoring took place in the first half.  Just 3 minutes into the game with Jason Klink scored a touchdown and Devon Mason cleared the point after attempt to put the Owls up 7-0.   Three minutes later Bodhi Albrent had a 6-yard run with the PAT by Mason good, 14 to 0.  However Slinger was not done scoring with 4-3/4 minutes remaining Tyler Wagar had a 2-yard run with Mason making the point after for a 21 – 0 score after 12 minutes of play.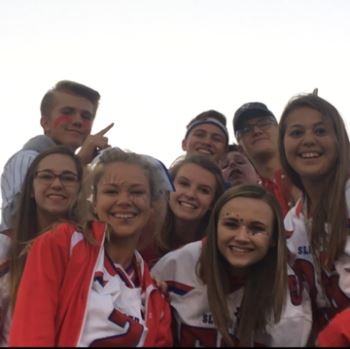 Eight seconds in to the second quarter, Albrent scored again, Devon Mason's PAT kick was good. Half way through the quarter Albrent scored on an 8-yard run, and Mason made another PAT for a 35 – 0 score.  Finishing out the scoring was Devon Mason with a 32-yard field goal finishing the half as Slinger led West Bend West 38 – 0.
The second half was under the "35-point" mercy rule and Slinger played every dressed player.  No scoring by either team, but Slinger was happy with its fifth win of the season.  This win should assure Slinger a place in the play-offs.
Next week Slinger and Grafton will face off with the Owls varsity traveling to Grafton.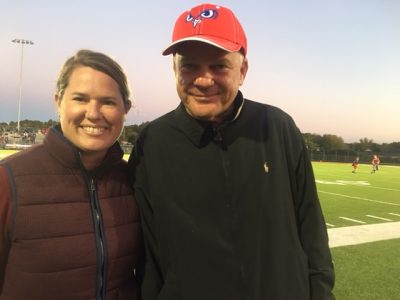 Tracy Roever and Dave Sukawaty and Dr. John Riesch were inducted into the Slinger High School Hall of Fame prior to kickoff of Friday night's game.
Band photo courtesy Daren Sievers.