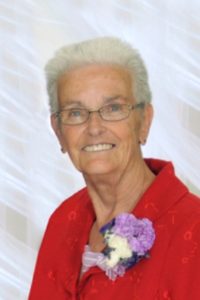 Alene Zimdars (nee McInturff), age 77 years, passed away Saturday July 2, 2016 in Fond du Lac. She was born on July 21, 1938 in Oklahoma to William and Ruby (nee Thompson) McInturff.  On December 13, 1986 she married Dale Zimdars and was employed at Simplicity Manufacturing in Port Washington for over 30 years.
Alene enjoyed gardening, hunting, sewing crafts, crocheting afghans, making blanket and Christmas skirts for everyone.  What she loved most was her grandchildren and her great grandchildren.  They made her day and made her smile.  There isn't anything she wouldn't do to spend time with them.  She cared and touched a lot of people's lives.  You could not have asked for a better mom, sister and friend.  There wasn't a person she did not love and care for. God got a very special angel that will organize heaven and teach him a few things.
Alene is survived by her husband Dale; her children Bill (Carolyn) Johnson, Tina (Gene) Swanke, Tony (Sarah) Johnson and Teddy Johnson; her step daughter Krisan Beecher; 18 grandchildren, 37 great grandchildren; her siblings Jewel Rickerson, Christopher McInturff, Janie (Larry) Moses, Roger (Verna) Henning and Linda (Larry) Bee, nieces, nephews other relatives and friends.
Alene was preceded in death by her parents, brothers Jack Johnson and Teddy Johnson Jr., sister Jeanne Bennett, grandson Teddy Johnson Jr. and brother in law Kenneth Rickerson.
A Funeral Service for Alene will be held at 6:00 pm on Friday, July 8, 2016 at the Phillip Funeral Home Chapel (1420 W Paradise Dr. West Bend 53095). Visitation will be held on Friday, July 8 from 4:00 pm until time of service (6:00 pm).