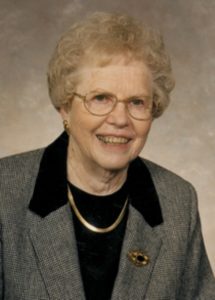 Lucille E. Jacklin (nee Proeber), age 93 years of West Bend, passed away on Monday, July 4, 2016 at the Lighthouse. Lucille was born on May 21, 1923 in the town of Barton, the daughter of the late Emil and Amanda (Klumb) Proeber.  On June 30. 1945, she was united in marriage to Elroy Jacklin at St. John's church in West Bend.  Elroy preceded Lucille in Death on May 12, 1994.
Always wanting to read and learn, she followed her brother to a country school, then went to St. John's for grades 3 to 8 and graduated from West Bend High School. After high school, Lucille worked at West Bend Mutual for four years.  She lived in Jackson until moving to a farm in Rubicon in 1956.  After Elroy passed away, Lucille moved to West Bend where she has lived ever since.
Lucille was active in the Ladies Aid at Peace Lutheran Church in Hartford and belonged to the Farm Bureau Women's organization.  Lucille like to garden, cook, sew, quilt and reading books.  She enjoyed playing cards with friends and loved to go dancing.
Those Lucille leaves behind to cherish her memory include her children Richard (Jan) of Portland, OR, Jerry (Cheryl) of Oshkosh, Elaine (Larry) of New Richmond, step grandchildren Misty (Ty), Shaun (Ralph), Kevin, Mike and Phoebe, seven great-grandchildren.  She is also survived by two sister-in-laws Doris Schmidt and Hilda Jacklin.
Lucille was preceded in death by her husband, Elroy, and special friend Arnold Doman.  She was additionally preceded in death by her parents, in-laws Otto and Ella Jacklin, brothers Alfred and Howard Proeber, brothers-in-law Willis and Lloyd Jacklin, sisters-in-law Alice and Viola Proeber and Holly Jacklin.
A Funeral Service will be at 1:00 pm on Monday, July 11, 2016 at Good Shepherd Lutheran Church (777 S. Indiana Ave., West Bend) with Pastor Richard E. Lauersdorf presiding.  Interment will take place at Washington County Memorial Park.  Visitation will be at the CHURCH ONLY on Monday, July 11 from 11:00 am until time of service (1:00pm).  Memorials are appreciated to Good Shepherd Lutheran Church (777 S. Indiana Ave., West Bend, WI  53095 or Kettle Moraine High School (3399 Division Rd., Jackson, WI  53037).
The family would like to express a Special Thank You to the staff at the Lighthouse/Betty's Harbor for their care and compassion for Lucille "aka sassy Grandma" during her stay.