Obit: Anthony "Tony" A. Goebel, 85, Eden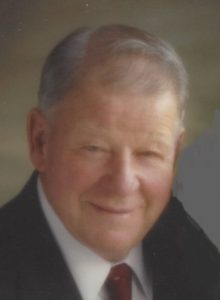 Anthony "Tony" A. Goebel, 85, of Eden passed away peacefully with his beloved family gathered with him on Monday, Sept. 5, 2016 at Woodlands in Fond du Lac.
Tony was born in the Town of Forest on March 20, 1931, the son of Anton and Odella (Engel) Goebel. On October 11, 1952 he married Joyce Engels at Our Lady of Angels Church, Armstrong.  They farmed in the Town of Eden.  He was a member of Shepherd of the Hills Catholic Church and the Catholic Order of Foresters. Tony and Joyce enjoyed traveling especially to Europe, Alaska and Hawaii.  He also enjoyed gardening, tractor pulls, birdwatching, gopher hunting and bowling but most important to Tony was the time he could spend with his family, especially his grandchildren.
Tony is survived by his wife, Joyce, his sons; Daniel (Lulu), Anthony (Sue) and Michael (Mary), his daughters; Jane Halfmann (special friend Darrel Nickel), Mary (Ed) Ruplinger and Julie (JR) Ramthun, 19 grandchildren; Danny & Jessica Goebel, Andy, Kevin and Chad (Tara) Goebel, Nick and Sarah Halfmann, and Alyssa (Brian) Rickert, Katie (Joe) Schultz, Emily (Kory) Bestul, Heidi (Thomas) Wightman, Rikki (Jason) Bruggink, Cody, Kristy, Casey, and Abby Ruplinger, Taylor, Tanner and Trevor Ramthun and 9 great-grandchildren; Bailey, Trevin, Kynley, Jack, Lexi, Paige, Larissa, Bentley and Cheyenne and 2 more coming soon.  He is further survived by his sisters; Kathleen "Pat" Dietzen and Alice Braatz, brother, Jim (MaryAnn) Goebel, his brother-in-law Tom Scannell, and sisters-in-law; Rosalie Engels and Shirley Goebel, many nieces, nephews, relatives and friends.
Tony was preceded in death by his parents, his sisters; Margie Johanski, Marcella "Sis" Scannell, Lorraine Flood and Bernadette Blatz, 2 brothers; John and Eugene Goebel, brother-in-laws and sisters-in-laws; Jerry Blatz, Herbert Dietzen, Edward Braatz, Sr., Bob Liesendahl, Stanley Johanski, Tom Flood, Mary Ann Goebel, Justin and Eleanor Engels, Mary and Francis Burns and John Engels.
Mass of Christian Burial will be Friday, Sept 9th at 6:00 PM at Shepherd of the Hills Catholic Church, W1562 Hwy B, Eden.  Rev. Mark Jones will officiate and entombment will be at the Chapel of the Risen Christ at Calvary Cemetery on Saturday, Sept. 10th.  Visitation will be at the church from 2:00 PM until time of Mass.
Special thanks to the nurses and staff at Woodlands and Agnesian Hospice Hope.