Obit: Audrey L. Broeckaert, 77, Grafton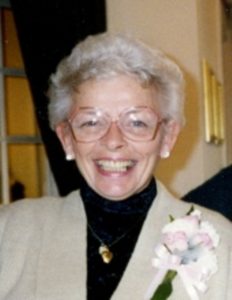 Audrey "Ma" Louise Broeckaert of Grafton, was called home on September 5, 2016 at the age of 77. Audrey was born in Cedarburg, WI on February 28, 1939. Audrey is preceded in death and received with open arms to her eternal home by her parents Esther (Nee Benz) and Art Baumann and her eldest daughter Kerry Lynne.
Audrey was the loving mother of Chris (Kim) of Hudson, WI, Bob (Lesa) of Mequon and Vicki (Joe) Kell of Grafton. She was also the life partner to Donald Hess; the loving sister to Arlene (Nick) Schecher; amazing aunt to Jody (Jim) Moder and Dave (Brenda) Schecher; Nana to Cody and Anna Bublitz; Benjamin and Gennevieve Kell; Nicole and JD Broeckaert.
Audrey worked at a couple of well-known businesses. She worked at Alston's of Cedarburg, The Cedarburg Coffee Pot and Mee Kwon Golf Club Restaurant. Audrey loved to be with people, chit chatting about their days. Many of her customers/co-workers kept in touch through her illness and her struggles the last 2 years. Audrey loved to read, watch Judge Judy, and all the classic shows, but most importantly, she loved spending time with family and loved ones.
Audrey's family would like to give a special thanks to Jen Delleree and Dr. Katherine Burrows for their care, compassion and support over the last two years. Mom looked forward to your visits and hugs.
A Celebration of Audrey's Life will be held at Mueller Funeral Home in Grafton on Thursday, September 8, 2016 – 6:00 PM. Visitation will be held on Thursday from 3:00 PM – 5:45 PM.