Obit: B. Bennett Reak, 88, West Bend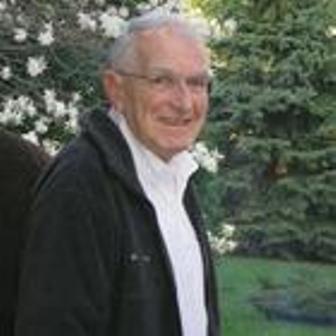 B. Bennett Reak, 88, of West Bend, died peacefully on Thursday, September 22, 2016.
He was born on May 13, 1928 in Beaver Dam, to the late Frank B. and Marjorie (nee Bennett) Reak.
The family moved to Terra Haute, Indiana when Bennett was in third grade, returning to Beaver Dam in June 1944.
Bennett attended Beaver Dam High School and graduated with the legendary class of 1946. He remained lifelong friends with many of his classmates. He and his friends, including his future wife Joyce Cisco, enjoyed many a mile in the black-and-white checkered Model T Ford that he rebuilt from the ground up.
Upon graduating high school, Bennett attended Marquette University in Milwaukee Wisconsin, graduating with a Bachelor of Arts in Mechanical Engineering in March 1951. Bennett was active in a number of engineering fraternities at Marquette, including Tau Beta Pi, the national honorary mechanical engineering society, Pi Tau Sigma, where he served as Treasurer, and the Marquette University Chapter of Triangle Fraternity, where he served as Secretary. He and his fellow Triangle brothers developed lifelong bonds, becoming avid downhill skiers and sailors, and spending many hours restoring and piloting an Aeronca Champ tailwheel aircraft. He was known to pilot from Timmerman Field, where he took his flight training, to the Reak family farm in Lost Lake, Wisconsin.
Bennett enlisted in the 126th Fighter Squadron, Wisconsin Air National Guard, in September 1947 and served until July 1949 when he was honorably discharged. He also worked as a Watchman in the Wisconsin Air National Guard at Billy Mitchell Field in 1948.
Starting in 1947, Bennett was a co-op student in the Mechanical Design Engineering Training Program at General Electric X-Ray Corporation in Milwaukee Wisconsin, where he alternated three-month periods while attending school. Upon graduation in 1951, he commenced working full time at GE X-Ray until 1955.
On June 23, 1951 he was united in marriage to Joyce Mae Cisco at the former St. Peter's Catholic Church in Beaver Dam.
Bennett was inducted into the US Army in January 1955 during the Korean War. Identified as a soldier of Scientific and Professional Qualifications, he was stationed at the Pine Bluff (Arkansas) Arsenal, working in the Production Development Laboratories.
Upon completing his military service, Bennett was employed as a mechanical engineer at Weasler Engineering and Manufacturing Company, Inc. in West Bend, a company he would help build and where he served in a variety of positions before eventually becoming executive vice-president and chief engineer. During his years at Weasler, he designed a number of devices relating primarily to agricultural product safety innovations, and holds U.S. patents on these designs. Bennett retired from Weasler in 1993, but continued to consult with the company for several years.
His passion for designing and manufacturing undiminished, Bennett, with the assistance of his sons, formed his own company, Good Parts, Inc. in West Bend. Good Parts continues today, supplying components to the agricultural off-highway and lawn-and-garden markets.
Bennett's professional memberships include the American Society of Agricultural Engineers-Wisconsin Chapter. He was active in the Rotary Club of West Bend for many years, and in the AFS chapter at West Bend High School.
Bennett was a charter member of St. Frances Cabrini Church, where he was on call, rain or shine, to fix any part of the physical plant that needed tending. Upon occasion, he was the designated driving teacher for the local community of School Sisters of Notre Dame, a role that brought much glee to his children who remember well his tutelage.
Bennett was an avid outdoorsman who enjoyed hunting, fishing, sailing, tennis and golfing. He shared his love of these activities with his children. Bennett was a member of Die Alten Herren (The Old Men) and played tennis through 2004. He was a member of the West Bend Country Club for over forty years.
He enjoyed many family trips to Europe in his later years, and thought nothing of carrying home many large wheels of cheese for his friends and family. He was always curious and ever the engineer, from strategically packing his children's vehicles when they moved away from home, to "innovating" systems around the home. Bennett was appreciated for his sometimes-wicked sense of humor; and his kindness, honor and love of family knew no bounds.
He is survived by his wife of sixty-five years, Joyce Reak; his five children: Bridget (Doug Wheeler) of Santa Monica, California; Peter (Debra) Reak of West Bend; Allison (Mark Dagel) Reak of Seattle, Washington; Paul (Lynelle) Reak of West Bend; and Mary Reak of Seattle, Washington; a sister, Jeanne Haas, of Storrs, Connecticut; and nieces, nephews and other relatives and friends.
A Mass of Christian Burial will be held on Wednesday, September 28 at 1 p.m. at St. Frances Cabrini Catholic Church (529 Hawthorn Dr.) West Bend. Entombment will follow in Washington County Memorial Park. The family will greet relatives and friends at the church on Wednesday from 11 a.m. until 12:45 p.m.
The Schmidt Funeral Home in West Bend is serving the family.
Online guestbook and condolences are available at www.schmidtfuneralhome.com