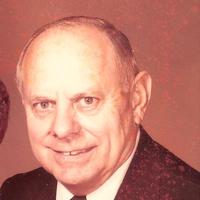 March 20, 2017 – West Bend, WI – Carl B. Groth of West Bend, Wisconsin gently passed away on March 13, 2017 at Agrace Hospice Center in Madison just short of 94 years after a very healthy life surrounded and peacefully embraced by his loving family.
He was born on April 10, 1923 to the late Edward L. and Lena Groth. Carl went to Holy Angels School for grade school and attended St. Nazianz Seminary and Saint Francis de Sales Seminary for a number of years.
Following the Seminary, he joined the Army in 1945 and knowing German language was assigned to counter-intelligence in Aschaffenburg, in postwar Germany.
Carl then served 14 years in the Army Reserves. Always a guy with West Bend in his heart, he returned and ran The Colonial Grill on Main Street with his brother Eddie Jr. and his mother for the next 12 years. It was at this time he was united in matrimony on June 13th, 1953 to Ethel T. Miller.
They were blessed with a daughter, Kathleen Mary, who passed in infancy. They danced and traveled together for the next 60 years in this long lasting life together. The Lord called her home on June 7, 2011. As long as Carl could he visited Ethel at the cemetery routinely.
Leaving the restaurant business, in a major career move, Carl went into fire truck sales. He represented Peter Pirsch Firetrucks of Kenosha and The Jaws of Life Franchises in Wisconsin for over 26 years. With his gregarious salesman personality, he never looked back!
His fire chief customers over the years became his best friends. The annual state fire convention was the highlight of his year. Carl and Ethel lived in the house they built their whole married lives and through their generous philanthropy in their later years changed the lives of many.
Carl and Ethel were very caring of others and generous. They were proud supporters of M.E.D.I.C.O. which serves the impoverished in Honduras where their contribution helped rebuild an emergency room. They were a strong supporter of the Catholic Community Foundation and the Holy Angels School Trust Fund.
As a lifetime devout Catholic his wonderful prayers before holiday gatherings were a priceless gift to those present. He was very active in the Holy Angels Parish community including serving 3 terms as the parish council president.
Carl certainly lived a full life, treasuring his many friends and relatives whether it be on the dance floor, golf course or his many back yard gatherings. Over the years, Carl and Ethel enjoyed monthly dance outings along with her sisters and husbands and many wonderful friends. They enjoyed traveling and have taken 21 Trans-Atlantic trips over the years. He will certainly be missed dearly by friends and family.
Survivors include his sister-n-laws Doris Groth, Pearl Juech, and Lillian Miller. Further survived by his much younger best friend and neighbor, Jack Daniels, nieces, nephews, other relatives many old friends. He cherished his new acquaintances from his last three years living in Madison with his brother Leo until he passed.
He was pre-deceased by his wife Ethel and daughter Kathleen Mary, brothers Sylvester (Josephine) Groth, Edward Groth Jr, Ralph (Margaret) Groth, Fred (Doris) Groth and Dr. Lee Groth. Further pre-deceased by brother-n-laws Darwin Juech, Don (Edith) Koerble, and Joe Miller.
A Mass of Christian Burial will be held on Friday, March 24, at 11:00am at Holy Angels Catholic Church in West Bend with burial in the church cemetery. Visitation will be at the church only on Friday from 9:30 to 10:45am. Masses and memorials to the Holy Angels School Trust Fund, Agrace Hospice, or a charity of your choice would be appreciated, if you so desire.
We would like to extend a special Thank You to the staff at the Schmidt Funeral Home for their kindness and care of Carl.