Obit: Derek D. Navin, 47, Hartford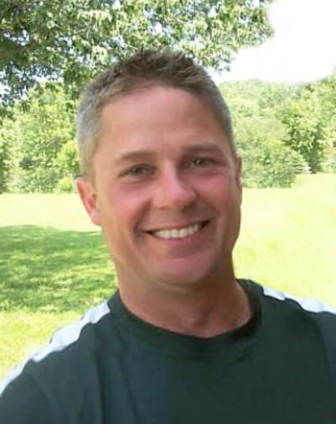 Derek D. Navin, age 47, of Hartford, Wisconsin passed away on Friday, September 23, 2016.
He was born on May 27, 1969 in Menomonee Falls, WI to David and Diane (nee Swearingen) Navin. Derek was united in marriage to Sarah Gritt on August 1, 1992 at the National Shrine of Mary Holy Hill in Hubertus, WI.
Derek was a caring husband to Sarah and a wonderful father to their four sons; Brandon, Caleb, Rory and Tanner. He was their biggest fan. Sarah and their boys gave him infinite joy. He was a dear friend to many and a bright light to all who knew him.
Derek was a member of St. Mary of the Hill parish and embodied the Lord in everything he did.  He was a dedicated soccer coach in the community for 17 years and touched the lives of many children and families.
Derek was an avid hunter and sportsman and spread his love of the outdoors to his four sons.  His beautiful spirit will forever shine through them.
Derek is survived by his loving wife Sarah, loving children Brandon, Caleb, Rory and Tanner of Erin.  Siblings Jamie and Michael Siehr of Rubicon, Stephanie and Justin Jackson of Erin, Sarah and Curtis Christie of Alexandria, VA. Derek's in laws Ron and Martha Gritt of Hartford, brother-in-law Bryan and Angie Gritt of Sherwood and Amy Gritt of Port Washington.
He is preceded in death by his grandfather William Navin, grandmother Cathleen (nee Coffey) Navin, grandfather Robert Swearingen, grandmother Marcella (nee Wickman) Swearingen, Uncle Kevin Navin, Aunt Karen Foelske (nee Navin), Barbara Jordan (nee Navin) and cousin Renee Pafford.
Mass of Resurrection for Derek will be held Friday, September 30, 2016 at 5:00 p.m. at the Basilica of the National Shrine of Mary, Help of Christians, at Holy Hill, upper church (1525 Carmel Rd Hubertus, WI 53033) with the Rev. Fr. Fred Alexander OCD officiating. The family will greet relatives and friends on Friday, September 30, 2016 from 2:00 – 5:00 p.m. in the upper Church.
As an alternative to flowers, you are welcome to donate to the family at any First Bank Financial Centre branch or donate online at gofundme.com/2ra2avg.