Obit: Ivan G. Schulz, 90, formerly of Campbellsport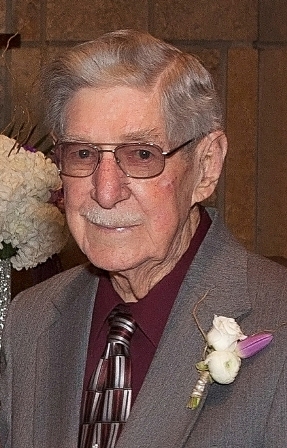 Ivan G. Schulz, 90, of Lomira, formerly of Campbellsport, passed away on Sunday, September 25, 2016, at Hope Senior Living surrounded by his loving family.
Ivan was born on February 10, 1926 in Batavia, the son of the late Chester and Cordula (Hintz) Schulz and was confirmed at St. Stephen's Lutheran Church in Batavia. On June 3, 1950 he was united in marriage to Byrdell Firks at St. John's Lutheran Church in New Fane.
Ivan farmed for a number of years, did plumbing and heating work before he started working at West Bend Equipment where he worked for 25 years. He was a former member of Beechwood Fire Department and Beechwood Sportsmans Club.
Those Ivan leaves behind to cherish his memory include his wife, Byrdell; five children, Larry (Sue) Schulz of North Fond du Lac, Jeff (Rosie) Schulz of Waupaca, Janelle (Ronald) Kuhfuss of Adell, David Schulz of Campbellsport and Rick Schulz of West Bend; eight grandchildren, Glen (Julie), Dean (E.J.), Daniel (Heather), John, Jesse (Jodie), Chad (Karla) and Nicholas Schulz, and Brandon (Amanda) Kuhfuss; a granddaughter, Jaime (Jay) Enright; nine great grandsons, Caleb, Isaac, Josiah, Ezra, Simeon, Zachary, Owen Schulz, Myles and Bentley Kuhfuss; six great granddaughters, Alexis, Lydia, Selah, Madeline, Jabin, and Jorin Schulz; a sister, Gayl Schmidt, nieces, nephews, other relatives and friends.
In addition to his parents, Ivan was preceded in death by a sister, Marjorie Krahn; three brothers-in-law, Arno Luedtke, Jerome Schmidt, and Gaylord Krahn.
A funeral service for Ivan will be held at 3:00 p.m. on Sunday, October 2, 2016, at St. Lucas Evangelical Lutheran Church in Kewaskum. Rev. Timothy Henning will officiate and burial will follow in Lutheran Memorial Park in Kewaskum.
Ivan's family will greet relatives and friends at the church on Sunday from 1:00 p.m. until the time of service.
In lieu of flowers, memorials to the family are appreciated.