Obit: Donald A. Herther, 89, Cedarburg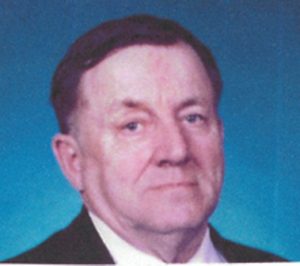 Donald August Herther of Cedarburg, age 89, passed away peacefully on Wednesday, September 14, 2016.  He was born to William and Alma (nee Wenzel) Herther on May 28, 1927.  Donald married the love of his life Evelyn (nee Miske) on November 8, 1952.  Together they had 3 children.
Donald grew up farming until retirement.  He also worked at Kieckhafer Company and Doerr Electric in Cedarburg.  He enjoyed traveling and playing cards.
Donald is survived by his children, Leon (Deb) Herther, Ruth (Tony) Knetzger, daughter-in-law Joyce Herther; grandchildren, Brenda (Daniel) Wittrock, Robert (Katelynn), James (Amber), Matthew, Joseph (Alexandra), Benjamin (Jennifer), Jerad; great-grandchildren, Adelyn, Brinley, Madalynn, Daisy, Calla, and Nora; sister-in-law Leola Herther, nieces, nephews, other relatives and friends.
He is preceded in death by his parents, spouse Evelyn, son Alan; siblings, Robert Herther, Wilbert Herther, Doris Parchim, Helen Rusch, and Reuben Herther.
A Funeral Service will be held on Sunday, September 18, 2016 at 5:00 PM at David's Star Ev. Lutheran Church (2750 David's Star Drive, Jackson, WI  53037) with Pastor Michael Woldt and Pastor Kurt Loescher presiding.  Visitation will be on Sunday, September 18th at the church from 3:00 PM until 5:00 PM.  Interment will take place at Zur Ruhe Cemetery in Cedarburg. Memorials appreciated to David's Star Lutheran Church.
A special thank you to the staff at Lasata Care Center and to Patsy Wilhelme with Optum Healthcare for their wonderful care.