Obit: Donald R. "Undo" Unferth, 92, Lomira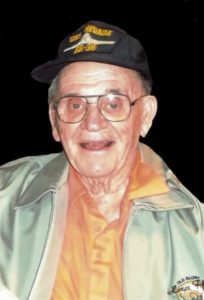 Donald R. "Undo" Unferth, 92, of Lomira, passed away on Thursday, September 15, 2016, at Hope Health and Rehabilitation Center in Lomira, with his family at his side.
Don was born on June 10, 1924, in Lomira, the son of the late Rueben and Lena (Stettbacher) Unferth. On August 30, 1947, he was united in marriage to Doreen Wolf at Salem Evangelical Church in Lomira.
Don was a member of Trinity United Methodist Church in Lomira, the Lomira Fire Department, and the Bintzler-Waehler American Legion Post 347. He proudly served his country in the U.S. Navy during World War II and attended the Honor Flight to Washington DC in 2010. Don was awarded Lomira Chamber of Commerce Citizen of the Year. He was employed by the U.S. Postal Service in Lomira from 1947 to 1983. Don enjoyed traveling, playing cribbage with his wife, and watching his grandkids play sports. He also treasured spending time at his hunting cabin in Waupaca County.
Those Don leaves behind to cherish his memory include his wife, Doreen; seven children, Sandy (Richard) Zitlow of Brownsville, Jeffrey (Elaine) Unferth of Lomira, Tari (Eric) Bloohm of Brownsville, Rebecca (Jeffrey) Luedtke, Christine (Douglas) Kuen, Lorilyn (Mark) Immel, and Steve (Amy) Unferth all of Lomira; 15 grandchildren, Kevin, Keith, Nicole, Paul, Anne, Kim, Ryan, Troy, Amy, Kasey, Jill, Todd, Adam, Ryan, and Owen; 26 great-grandchildren, Nicholas, Brady, Quinn, Zoey, Ella, Gavin, Nora, Koby, Porter, Marley, Finley, Allyson, Rueben, Jenna, Gage, Rhea, Jackson, Grayson, Dylan, Alexandria, Tori, Sammy, Kincade, Emmitt, Reese, and Harlow; a brother, William (Maryanne) Unferth of North Carolina; two sisters, Janice Frazee of Oshkosh and Shirley (Frank) Washatka of Texas; a brother-in-law, Howard Schneiter of Portage; other relatives and friends.
In addition to his parents, Don was preceded in death by, his mother and father-in-law, John and Minnie Wolf; a sister, Jean Schneiter; three sisters-in-law, Mabel Wolf, Ruthella Wolf and Laverne Ehrhardt; three brothers-in-law, Oliver Wolf, Donald Frazee and Maurice Ehrhardt, and a great-granddaughter, Tessah Rebecca Todl.
A memorial service for Don will be held at 6:00 p.m. on Wednesday, September 21, 2016, at Trinity United Methodist Church in Lomira. Rev. Rom Pegram will officiate and Military Honors performed by the Bintzler-Waehler American Legion Post 347 will follow the service. Private burial will take place in Salem Cemetery in Lomira.
Don's family will greet relatives and friends at the church on Wednesday from 3:00 p.m. until the time of service.
In lieu of flowers, memorials to Trinity United Methodist Church and Agnesian Hope Hospice are appreciated.
The family would like to extend their appreciation to Agnesian Hope Hospice and Hope Health and Rehabilitation Center in Lomira for the wonderful care provided to Don and his family.