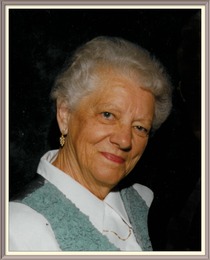 March 15, 2017 – West Bend, WI – Doris Ansay Hansen, a longtime resident of West Bend and member of St. Frances Cabrini Catholic Church, passed away on Friday March 10, 2017 at the Lighthouse Senior Living Center Where she has been a resident with her husband, Jack for the past 5 years.
Born in Port Washington, Doris grew up on her parents Ray and Rose Ansay's dairy farm.  During World War II she worked at the Wisconsin Chair Factory where she met her husband Jack L. Hansen.  After the war ended, the couple married and settled in Saukville.  In 1954 the Hansen's moved to Hubertus where they ran a tavern and a small grocery store.  It wasn't long before they were known around town for Friday Fish Fries and Doris's famous German Potato Salad.  Years later, Doris and her husband operated several Piggly Wiggly Grocery stores in Washington and Ozaukee County under the family name of Hansen's.
Their oldest son, Stanley died in Vietnam in may of 1970.  After that, Doris regularly took part in the annual Memorial Day parade, representing the Gold Star Mothers.
After retirement Doris and Jack lived on Big Cedar Lake and eventually West Bend.  Doris was known for her beautiful blue eyes and her radiant smile, as well as for her skills at Sheeps-head, her favorite card game, and the late-afternoon Old Fashioned she occasionally enjoyed.
Doris is survived by her husband of 70 years, Jack; her sisters Laverne Weiss and Carol Weiter; her children, Mary Rose Turnpaugh, Randall (Lynn) Hansen, Jefferey (Sherry) Hansen, Rodney (Amber) Hansen, Jody (Amy) Hansen; Grandchildren, Emily Ramey, Dustin (Danielle) Hansen, Kyle Hansen, Lindsey Hansen, Nick (Allison) Hansen, Elissa (Mark) Hemauer, Ben (Ashley) Hansen, Brittney (Braden) Rindy, Jacob Hansen, Nolen Hansen, Riley Hansen; and her 8 Great Grandchildren with 1  "little nugget" due any day.
A memorial service in remembrance of Doris will be held at 4:00 p.m. Sunday, March 19, at Phillip Funeral Home on Paradise Drive in West Bend.  The family will greet friends and relatives on Sunday, March 19th at the funeral home from 1:00 p.m. until the time of service.
The family would like to extend a special "Thank you" to the staff of Seasons Hospice, the staff of Cedar Community, and the staff of the Lighthouse of West Bend.  Thank you for always being there.