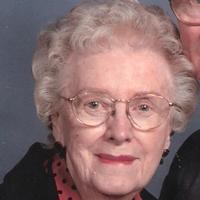 March 21, 2017 – West Bend, WI – Dorothy M. Hodgson, nee Ladik, of West Bend, formerly of Milwaukee and Mountain, WI, died on Sunday, March 19, 2017 at Ivy Manor at the age of 91 years. She was born on August 10, 1925 in Milwaukee to the late John and Laura (nee Frenz) Ladik.
She married Henry M. Behrens in Milwaukee County. Henry predeceased August 3, 1965.
On May 17, 1969, she was united in marriage to Earl W. Hodgson in Milwaukee.
For many years, she worked as a secretary and bookkeeper for an insurance agency in Milwaukee.
In the early 1990's, she and Earl moved to Mountain where they made their home. Since June, 2016, they have lived in West Bend.
She loved cooking, gardening and crafts. Throughout the years, she knitted and crocheted many pieces, including wash cloths, afghans and scarfs.
Survivors include her husband Earl; nieces and nephews: Carol Darville, Richard Ladik, Robert Ladik, Walter Ladik, Linda Fabian, Nancy Mender and Thomas Ladik; brother-in-law Allen R. Hodgson; great-nieces, great-nephews, other relatives and friends.
In addition to her parents and her first husband Henry, she was preceded in death by 2 brothers Fred (Jean) and John, Jr. (June).
Funeral services will be held on Thursday, March 23 at 2:30 p.m. at the Schmidt Funeral Home in West Bend with Rev. Joseph Fisher officiating. Burial of the cremated remains will be in Wisconsin Memorial Park, Brookfield. The family will greet relatives and friends during a period of visitation at the funeral home on Thursday from 1 until 2:15 p.m.
Memorials to the American Alzheimer's Association appreciated.
Dorothy's family would like to extend a special thank you to the staff and caretakers at Lakewood Assisted Living in Lakewood, WI, the staff and caretakers at Ivy Manor in West Bend and the staff of Serenity Hospice for their care, concern and friendship.