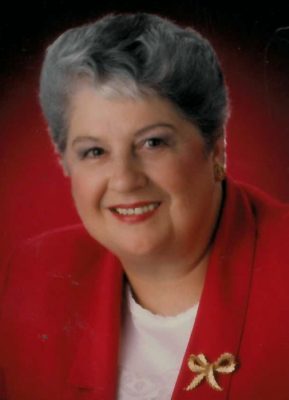 June 27, 2017 – West Bend, WI – Dorothy "Tina" Gonnering, went home to be with the Lord on June 26, 2017.  Dorothy was born the oldest of two daughters on October 24, 1937 to Alvin and Emma (nee Oberle) Koenings, in Barton, Wisconsin.
She attended St. Mary's Grade School and later graduated from West Bend High School in 1955.  It was here where she was given the nickname "Tina" by a friend who shouted it in a crowded hallway and it stuck.
On June 1, 1957, Tina married Peter L. Gonnering and they were blessed with five children within four and a half years.  Tina was a stay-at-home mom who still found time to be a Cub Scout Den Mother, assist with Girl Scouts, be a member of the Christian Mothers, and a volunteer for the American Red Cross.  Tina also drove for Johnson School Bus from 1966-1980.
Tina enjoyed working with numbers and being around people which lead to many different public servant jobs. She was a Town of Barton Poll Worker; and served as Treasurer for the Town of Barton, Washington County, and the Washington County Republican party.  In her spare time she also assisted at the Washington County Clerk's Office.
In October, 1991 Tina was appointed by Governor Tommy Thompson as Washington County Register of Deeds (ROD), a position she held through multiple re-elections until retirement in 2003.  As ROD, Tina was instrumental in making Washington County the second county in Wisconsin to implement paperless electronic recording technology.  She served as President of the ROD Association from 1998 to 1999 and received numerous commendations during that time.  Although Tina retired from her ROD role in 2003, she continued as Treasurer of the Town of Barton until 2016.
Tina loved travelling and often spoke of her visit to Paris. One of her favorite travelling stories was about fulfilling her desire to drive a Mercedes Benz over 100 mph on the German autobahn (because it was legal and she could!).  Her enthusiasm turned to irritation when another motorist "on her tail" kept flashing their headlights since she was driving too slowly in the fast lane!  In her later years Tina enjoyed weekend drives with Peter, top down and hair blowing in their '93 Jaguar, especially "jagging" up north to see the fall colors.
Tina had many hobbies.  She was an excellent cook who enjoyed baking and canning and taught her children to do the same.  She liked to gamble with an occasional trip to Las Vegas, never winning much but never losing much either (so she claimed). Her favorite card game was Sheepshead which she could play for hours on end.  She also enjoyed Bingo and plugging an occasional penny slot machine.
Tina once assisted her husband Peter with snow plowing, but she clipped a few mail boxes and she wasn't asked to accompany him on future plow jobs! Tina tried some of Peter's favorite hobbies like deer hunting and fishing, but sitting in the nasty cold weather, baiting hooks, and taking fish off the line wasn't her favorite way to pass time.
Tina was a social person who loved to laugh, which drew people to her.  She was a forever optimist who could see the good in the most unlovable people and every bad story always had a silver lining. She was a champion for her children and grandchildren, always there to encourage and support them in all of their endeavors.
She is preceded in death by her husband of almost 60 years, Peter, who passed away in March of this year.  She leaves behind her children:  Leo Gonnering (Betty), Catherine Oberle-Ladd (Mark), Gary Gonnering and girlfriend Jean Breuer, Rose Gonnering, Mary Gonnering, nine grandchildren, two step-grandchildren, and eight great grandchildren.  She is further survived by her sister Diane and brother-in-law Ray Roskopf, many other nieces, nephews, and friends.
The family wishes to thank Dr. George Mosley and Dr. Eric Olafsson who cared for Tina for many years.  Special thanks go out to the entire Cedar Home Health and Hospice staff.
Visitation will be at Phillip Funeral Home (1420 W. Paradise Dr., West Bend, WI 53095) from 4:00 to 7:00 p.m., on Thursday, June 29, 2017.  A Mass of Christian Burial will be held at St. Mary's Immaculate Conception Catholic Church (406 Jefferson St., West Bend, WI 53090) at 10:30 a.m., on Friday, June 30, 2017, followed by interment at the new St. Mary's Cemetery (Forest View Road, Town of Barton, Wisconsin).