Obit: Edward Francis Rivard, 87, of Hartford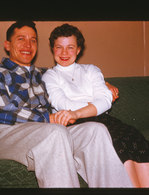 August 5, 2018 – Hartford, WI –  Edward Francis Rivard, 87, of Hartford, passed away peacefully into the arms of Jesus on Thursday, August 2, 2018 at his residence.
Edward was born on May 16, 1931 to Simeon and Pauline (nee Mathis) Rivard in Somerset, WI. Edward married Alice (nee Dick) on April 14, 1959 at St. John's the Baptist Church in Marshfield, WI. He served in the US Army in the Signal Corps as a High Speed Radio Operator for two years during the end of and for a short time following the Korean Conflict.
Edward was employed with the Chicago and Northwestern Railroad for 38 years starting in 1952. He was one of the last telegraphers within the railroad. Edward loved playing cribbage and the outdoors including camping, hunting, fishing, and gardening. He was an avid Green Bay Packer, Milwaukee Brewer and Wisconsin Badger fan. He was a Boy Scout Leader, member of the Knights of Columbus and a competitive sharpshooter.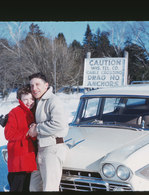 In his retirement years, Ed enjoyed volunteering with AARP to help with taxes for seniors in the Hartford community.
Edward is survived by his loving wife of 59 years, Alice, beloved children; Edward (Donna) Rivard, Jeanne Rivard, Jim (Michelle) Rivard and Rosanne (Tom) Nosacek. He is further survived by 18 cherished grandchildren; Jacob, Luke and Eric Rivard; Ben, Tyler, Nick, Jamie, Michael, David, Joseph, John-Paul, Augustine, and Regina Rivard; Evan, Eli, Brea, Rebekah and Isaac Nosacek. Also survived by his sister, Mary Ann Mitchell, brother, Francis (Colleen) Rivard, sister-in-law Arlene Rivard, many in-laws through marriage, nieces, nephews, other relatives and many friends.
Preceded in death by his parents Simeon and Pauline Rivard, brothers Joseph Rivard and Robert Rivard, grandchildren Simon and Samuel Nosacek, brother-in-law Al Mitchell, and sister-in-law Mary Rivard.
A Mass of Christian Burial will be held at 10:30 am on Saturday, August 11, 2018 at St. Peter Catholic Church of Slinger (200 E. Washington St.) with Father Richard Stoffel presiding. Interment at New St. Peter Cemetery following mass. Visitation will be at the church only on Saturday, August 11 from 8:30am until time of mass (10:30am). In lieu of flowers, memorials are appreciated to Wisconsin Pro Life (15850 W. Bluemound Rd. #311, Brookfield, WI 53005), or Alzheimer's Foundation of America (322 Eighth Avenue, 7th Floor, New York, NY 10001), or St. Peter Catholic Church (208 E. Washington St., Slinger, WI 53086).
A Special Thank You to all the staff at Harbour Village Assisted Living, Kindred Hospice, and to Lydia for all their compassionate care provided to Edward.