Obit: Elaine G. Mueller, 86, formerly of Grafton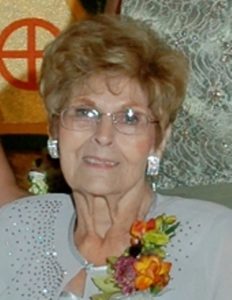 Ms. Elaine Mueller of Belgium, formerly of Grafton and Milwaukee, passed away Friday evening, September 23, 2016 at Belgium Gardens, where she had resided for the last six years. She was 86 years old.
Elaine was born in Ironwood, MI on July 25, 1930, daughter of John and Helmi Mandelin Brackett. The family lived in Pence, WI. She attended local schools and graduated from Hurley High School in 1947. Elaine was united in marriage with Russell Glaser on August 24, 1948 in Eau Claire, WI. The couple settled in Pence and started their family. Mr. Glaser preceded her in death. Elaine moved to Milwaukee in 1977 and went to school to become a manicurist. She worked at Marshall Fields at Southridge as a manicurist for several years and later worked as a placement agent for Interfaith. Elaine moved to Grafton in 2000 and later to Belgium.
Elaine was an excellent baker, and made wonderful goodies around Christmas every year. She would spend months baking breads, bars and cookies to share with family and friends. She also enjoyed crocheting and knitting.
Ms. Mueller is survived by her daughter Diane (Mark) Hajewski of Fredonia, three grandchildren: Gina (John) Jaruszewski, Garin (Steve) Krogsund and Shana (Eric) Rojahn and four great-grandchildren. She is further survived by her brother Earl Brackett and sister Jean Vandevoorde, both of Pence, numerous nieces and nephews, other family and friends. She was preceded in death by her son Gary Glaser, sister Doris Zandi and brother Gordon Brackett.
A Memorial service will be held at 12 noon on Saturday, October 1, 2016 at the Eernisse Funeral Home-Cedarburg Chapel, 1167 Washington Ave., Cedarburg. Chaplain Terry Mahler will preside. The family will receive visitors at the Funeral Home on Saturday from 11 AM until services at 12 noon. Memorials are suggested to the MS Society.