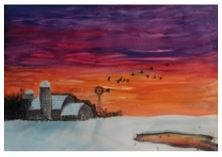 Oct. 1, 2018 – West Bend, WI – Frank J. Salter, 87, of West Bend passed away peacefully on Thursday evening, September 27, 2018, surrounded by family.
Frank was born in West Bend on February 6, 1931, the only child of Laverne and Elsie Salter.
He attended West Bend High School and attended UW-Platteville to study agriculture until he was called home to operate the family dairy farm in Germantown, WI. Frank married the love of his life Ruth Michels on September 26, 1953.
Frank and Ruth settled in West Bend, WI, where they remained active with dairy farming and raising a family, enjoying nights with little sleep to tend to the cows and the children. He loved nothing more than to provide the best life he could for his family.
During retirement, Frank and Ruth focused their time on family, friends, and traveling. Frank was also dedicated to benefiting his community by performing multiple acts of service. Frank was known for his determination, hard work ethic, and loving heart.
He was greatly devoted to his faith, attending Mass every Sunday with his grandchildren by his side. He was never short on a story, always had a joke to share, and loved supporting his children and grandchildren at their sporting events and extracurricular activities.
God looked graciously upon his family, allowing him to stay with Ruth to celebrate their 65th wedding anniversary this past Wednesday on September 26th, 2018. Their long and happy marriage is a true testament to the beautiful, loving foundation he built for his family.
Frank joins his father and mother and son, Patrick, amongst many other loved ones.
Frank is survived by his wife Ruth Salter of West Bend, three daughters Mary (Paul) Woldt of Sussex, Ann (Bob) Steilen of West Bend, and Kay (Kevin) Conley of West Bend; daughter-in-law Jamie (Bob) Mollwitz of Ohio; brother-in-law and sister-in-law James and Diane Michels of West Bend; cousin Mike Salter of California; nine grandchildren: Clair (Dan) Mills, Ryan (Stacey) Steilen, Patrick (Rachel) Salter, Kay (Nate) Laatsch, Kelly (fiance Jake Thompson) Steilen, Colleen (Matt) Waech, Meghan (fiance Jake Armellani) Conley, Kara Conley, and Kieran Conley; and great-grandchildren: Ava, Camden, and Tenley Steilen, Luke and Chase Laatsch, and Pierce Mills; along with several nieces, nephews, and other relatives.
A Mass of Christian burial will be held on Friday, Oct. 5, at noon at St. Frances Cabrini with Fr. Andrew Infanger officiating. A private family burial will be held at Washington County Memorial Cemetery following Mass. Visitation will be at the church on Friday, Oct. 5, from 10 a.m. until the time of service.
The family would like to thank the medical care given by Dr. Robert Gibson and the medical team at St. Joseph's Hospital. Schmidt Funeral Home of West Bend is serving the family.