April 11, 2018 – West Bend, WI – Gerald F. Zahn of West Bend died on Monday, April 9, 2018 at Kathy Hospice at the age of 74 years.  He was born on June 12, 1943 in West Bend to the late Edwin and Adeline (nee Degner) Zahn.
On July 16, 1966, he was united in marriage to Kathleen E. Hoefert at Immanuel United Church of Christ.  Kathleen predeceased May 18, 2017.
After graduating from Germantown High School, he enlisted in the United States Army Reserve.
For over 40 years, he worked as a delivery driver for home heating oil.  He started working with his father for Schaetzel Oil in Germantown and West Bend.  He later worked for Quick Flash Oil and Yahr Oil, retiring in 2005.
Throughout the years, he and a group of friends bowled every Thursday night.  He also enjoyed traveling, working outside, spending time in his workshop and tinkering with whatever needed tinkering.
Above all else, family was the most important part of his life.  He took great comfort in being with his wife, children and grandchildren and his extended family.
Survivors include 2 children Judy (Bill) Neu of West Bend and Mike of Milwaukee; 6 grandchildren: James, Jesse, Brittany, Emily, Elizabeth and Noah; 1 great-grandson Jaxon; brothers-and-sisters-in-law: David (Gloria) Hoefert of East Troy, Richard Hoefert of Milwaukee, Norman (Carol) Hoefert of Two Rivers, Patricia (John) Mannen of Urbana, IL, Ann Knuth of Cambridge, Marie (Jason) Hintz of Greer, SC and Susan Hoefert of Naples, FL; life-long friends Wesley and Barb Seyfert and Eric and Heidi Dhein; nieces, nephews, other relatives and friends.
In addition to his parents and wife, he was preceded in death by 1 grandson Curtis, 1 sister Dallas Serstead, 2 brothers-in-law Darwin Hoefert and Glenn Knuth.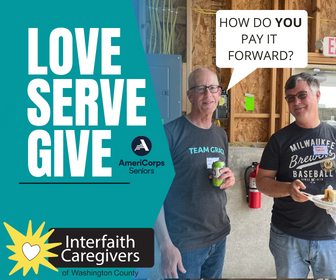 Memorial services will be held on Saturday, April 14 at 4:30 p.m. at the Schmidt Funeral Home in West Bend with Rev. David Schlieter officiating.  The family will greet relatives and friends at the funeral home on Saturday from 3 until the time of the service at 4:30 p.m.
In lieu of flowers, memorials to New Horizon United Church of Christ.