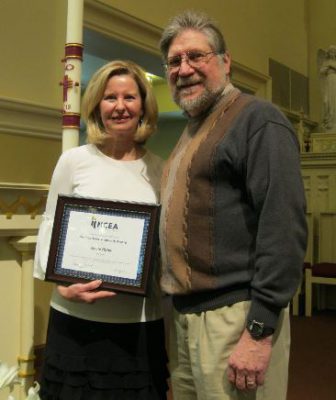 April 11, 2018 – West Bend, WI – As part of the annual celebration of Catholic Schools Week each year, Holy Angels School recognizes past students with the National Catholic Educational Association's Distinguished Graduate Award.
The school's mission statement begins with the words: "We belong to a Catholic community which gathers together to proclaim the gospel, serve others and praise God."
This year's distinguished graduate was not available during the January celebration which delayed the presentation until this past weekend. The 2018 award recipient is Gayle (Juech) Ritter, a member of the Class of 1970.
Principal Mike Sternig noted "Gayle has certainly embodied our mission statement by her service to others. She has been affiliated for the past 25 years with a charitable organization called MEDICO (Medical Eye Dental International Care Organization) which serves the impoverished population in Honduras. She has accomplished volunteer work in remote villages throughout that Central American nation.  Much of this volunteer work has focused on assisting the dentists and optometrists in the field as well as providing post-surgical rehabilitation to patients that have suffered severe injuries as a result of working on the banana and coffee plantations."
The Distinguished Graduate and her husband have been the group leaders for several groups consisting of between 8 to 25 volunteer members and have most recently traveled to the Mosquito Coast which is in the southeastern region of the country and is a desolate and remote jungle-like area inhabited by mostly indigenous tribes.
In 1998, she was a part of a delegation of medical volunteers to provide medical care to those who suffered injuries from Hurricane Mitch, one of the deadliest hurricanes to hit the Western Hemisphere in more than 200 years. Additionally, she has provided care and therapy to children and adults alike suffering from a myriad of disabilities.
This husband and wife team has made several interactive presentations to the students of Holy Angels regarding their volunteer trips and they have been the encouragement for students to become involved with serving others through outreach efforts.
Regarding her formation at Holy Angels, Ritter made it clear, "My Catholic education has instilled a strong foundation of empathy, care, and compassion for the less fortunate members of both our local and international community."