Obit: Harold Emil Woltring, 97, Cedarburg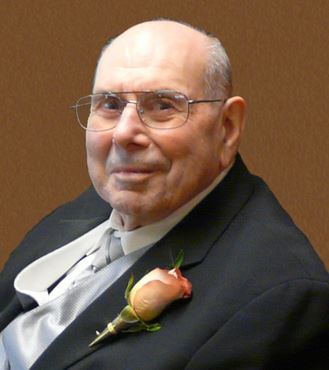 Dec. 20, 2016 – Cedarburg, WI – Harold Emil Woltring, 97, was called home to be with his Lord and Savior on Monday, December 19, 2016, with his family at his side.
Harold was born on April 23, 1919, in Grafton to the late John and Martha (nee Mueller) Woltring. He was baptized and confirmed at Immanuel Lutheran Church in Cedarburg and graduated from Grafton High School in 1938.  Harold played basketball for Grafton High School and spoke about the thrill of Grafton going to the State championship. He and his brother Elroy followed in their father John's footsteps with service in the Grafton Fire Department in their younger years.  Harold loved auto mechanics and was the family's favorite repair go-to person.  The family motto was "Just call Harold, he'll know what to do" when things broke down.
Harold loved auto racing and participated in Wednesday night racing at Cedarburg Fireman's Park and Slinger Speedway and loved attending Elkhart Lake races with his family.
He also trained as a pilot privately at Grob Field on Hwy. 60 prior to the outbreak of WW II.  Harold entered active service in May of 1943 until October of 1945 where he served in the 23rd Infantry Regiment and then was transferred to the 2nd Engineer Combat Battalion of the Army of the United States.
He was in the European Theatre, with deployment to Northern Ireland where his Battalion trained for the D-Day invasion and fought through the Post War Occupation.  As a sharpshooter rifleman, he was chosen to go into Normandy for D-Day plus one.
Their Battalion was instrumental in the liberation of France, Belgium, and The Netherlands and the invasion of Germany plus in the Ardennes – Battle of the Bulge, Czechoslovakia, Austria, and Luxembourg.  Harold served as a duty soldier, building bridges, road construction, mine removal demolition work, and also aided the infantry as a member of the combat troops during the Normandy campaign.  He had experience as a tool keeper and acted as a German interpreter while in Germany.
After the war ended, he returned to his family on Ninth Avenue in Grafton.  On June 2, 1947, he was united in marriage to Gladys A. Pergande of Cedarburg at Immanuel Lutheran Church. Harold and Gladys resided at 436 East Hamilton Road in Cedarburg for many years, and then built a new home in the Town of Cedarburg in 1968 where they remained until 2013.  Gladys preceded Harold in death on March 2, 2013.
Harold worked at Grob's in Grafton, with his Uncle George Lucht's family in the masonry business and retired from American Can Company in 1984 after 34 years of service as a tool and die maker. In retirement, Harold and Gladys, enjoyed many trips out West, Canada, Hawaii, Missouri, up north to Star Lake and Plum Lake with his family, visiting with their many friends.  Harold and Gladys enjoyed fishing and camping with their family and dogs.  Harold's favorite past time was woodworking, playing Sheepshead and dice, and caring for their beautiful garden and yard with his John Deere tractor.  He loved his family tremendously and helped anyone who requested it.
Harold is survived by his children, Lynne Woltring of Cedarburg, Jane Soulier of Cedarburg, Judy Woltring of Greendale, Dale (Anne) of Germantown, Thomas (Julie) Woltring of West Bend, and Diane (Dale) Engel of Cedarburg; 11 grandchildren, Nicholas Woltring, Carolyn Averill, Brian Averill, Catherine Averill, Cassandra (Brent) Thiel, Stephen Woltring, Mitchell (Sarah) Woltring, Thaddeus (Kayleigh) Woltring, Bridget (Andrew) Murray, Thomas (Allison) Engel, and Bryce Engel; three great-grandchildren, Jack and Henry Woltring and NolanThiel; and one sister-in-law, Lillian (Wallace) Pergande; a brother-in-law, Bill (Karen) O'Sullivan.
In addition to his wife and parents, Harold was preceded in death by his parents-in-law, Henry and Anna (nee Schneider) Pergande; a brother, Elroy (Margaret) Woltring; two sisters, Anita (Leonard) Fellenz and Ardell (James Schmit) Schmit-O'Sullivan and four brothers-in-law, Elroy (Isolde) Pergande, Harold (Virginia) Pergande, Henry F. (Elaine) Pergande, and Wallace Pergande.
Funeral services for Harold will be held at 6:00 p.m. on Thursday, December 22, 2016, at Grace Lutheran Church, 715 6th Avenue in Grafton. Visitation will be from 4:00 p.m. until the time of services. Rev. Heidi Borkenhagen will officiate with the Rev. Dale Erickson assisting.
Internment with full military honors will be held at 11:00 a.m. on Friday, December 23, 2016 at Immanuel Cemetery in Cedarburg.
In lieu of flowers, memorials to the family are appreciated.  Memorials will be donated to local charities that Harold enjoyed.
The family would like to thank Dr. Daniel Jablonski and his staff, the nurses and staff at Lasata Care Center, and Heartland Hospice for their wonderful care of Harold.