Obit: Raynor W. Herriges, 88, of Kewaskum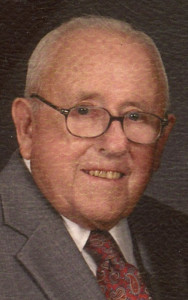 Kewaskum Fire Department veteran and owner of Herriges Oil, Raynor W. Herriges, 88, of Kewaskum, has died. Herriges passed away Monday, Jan. 4, 2016, at Kettle Moraine Gardens in Kewaskum with his family by his side.
He was born on January 24, 1927 in St. Michaels the son of the late Alois and Florence (nee Schneider) Herriges, and on August 8, 1953, he was united in marriage to Patricia Hanrahan at St. Bridget's Catholic Church in the town of Wayne.  Patricia preceded Raynor in death on November 16, 2012.
Raynor grew up helping his father farm for many years as well as working at the Lomira Oil Company before being drafted in 1950.  He proudly served his country in the Army from 1950 until 1952.  Upon his return from the service Raynor worked another year at the Lomira Oil Company before coming to Kewaskum and starting Herriges Oil.  Raynor owned and operated Herriges Oil for 40 years.  He was a 30 year veteran of the Kewaskum Fire Department, a Knights of Columbus member for 56 years and a member of the Robert G. Romaine Post #384 American Legion for more than 60 years.
Raynor was a master story teller, he enjoyed wood working, singing in the Holy Trinity Traditional Choir and most of all spending time with his family.
Those Raynor leaves behind to cherish his memory include six children, Ann (Doug) Polzean of Kewaskum, Mary (Perry) Polzean of Campbellsport, Mark (Jacky) Herriges of Kewaskum, Joel (Lisa) Herriges of Sussex, Jane (Tom) Paul of Milwaukee and Tom (Brenda) Herriges of Kewaskum; 14 grandchildren, Kevin (Kathi) Polzean, Bridget (special friend Tony) Polzean, Sarah Polzean, Dr. Margaret (Dr. Andy) Lijewski, Alexander (Jessica), Michael, Joseph, Zachary, Daniel and Samuel Herriges, Nicholas and Christopher Paul, Rebecca (Nicholas) Krieser and Kelsey Herriges; 7 great-grandchildren, Natalie and Liam Krieser, Harrison Mancl, Jackson and Landon Polzean and Bram and Audra Herriges; two brothers, Leander (Mary) Herriges of the town of Wayne and Linus (Beth) Herriges of the town of Campbellsport; a sister-in-law, Marie Wietor of Kewaskum; a brother-in-law, George (Mary) Hanrahan of Kewaskum, many nieces, nephews, other relatives and friends.
In addition to his parents and wife of 59 years Patricia, Raynor was preceded in death by a sister, Helen (Joseph) Ruplinger;  a brother, Allen Herriges; two brothers-in-law, Jerome (Myrtle) Hanrahan and Cyril Wietor.
A Mass of Christian Burial for Raynor will be held at 7:00 p.m. on Monday, January 11, 2016, at Holy Trinity Catholic Church in Kewaskum.  Father Neil Zinthefer will officiate and burial will be at 10:00 a.m. on Tuesday in the parish cemetery.
Relatives and friends may call at the church on Monday from 3:00 p.m. until the time of Mass.  The Kewaskum Fire Department will be doing an honorary walk through at 6:00 p.m.
In lieu of flowers, memorials to the We Believe Campaign of Holy Trinity are appreciated.
The Myrhum Patten Miller & Kietzer Funeral Homes have been entrusted with Raynor's arrangements.  Additional information and guest book may be found at www.myrhum-patten.com.
Raynor's family would like to extend their heartfelt appreciation to the entire staff at Kettle Moraine Gardens and Serenity Hospice for their wonderful care of their dad.