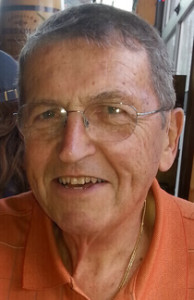 Joseph "Joe" G. Altschaefl, 80, passed away on Thursday, March 31, 2016.  He was born on August 12, 1935 in West Bend to Joseph and Loretta (nee Boden) Altschaefl.  Joe was involved in the title insurance and land development business for many years.
He loved to hunt, fish, travel and enjoy time at his Pelican Lake cottage.  Joe loved to attend the many sporting events and other extra-curricular activities of his grandchildren. Joe was a member of the Washington County Land Information Board, Washington Board of Realtors, past Chairman of the West Bend Housing Authority, long time member and past President of West Bend Rotary and served in the Wisconsin National Guard.
Joseph is survived by his children Jo Ellen (Erik) Selsing with their children Justine, Brandon and George; Mike (Mary) Altschaefl with their children Becky (Aaron) Miller, Kate (Michael) Drezner, Maggie and Lizzie; Holly (Tim) Nennig with their children Bailey, Sadie and Alex; and Ann (Jon) Dommisse with their children Lucas, Logan and Morgan; and great-grandchildren Claire and Jack Miller and Kylee Selsing.  Joe is further survived by his dear companion Joanne Kieckhafer, other relatives and friends.  He is preceded in death by Ruth, his loving wife of 58 years and his parents.
A Mass of Christian Burial will be on Wednesday, April 6, 2016 at 1:00PM at St. Frances Cabrini Catholic Church (1025 S. 7th Ave., West Bend) with Father Enrique Hernandez presiding.  Visitation will be Tuesday, April 5, 2016 at 4:00PM until 6:45PM at the Phillip Funeral Home Chapel (1420 W. Paradise Dr., West Bend) with a 7:00PM Vigil with Dr. Reverend Matt Hadley presiding.  A continued Visitation will be at St. Frances Cabrini (1025 S. 7th. Ave., West Bend) on Wednesday, April 6, 2016 from 11:30AM until the time of Mass at 1:00PM.  Interment will immediately follow Mass at Washington County Memorial Park with Military Honors.