Obit: Kathleen A. Berres, 55, West Bend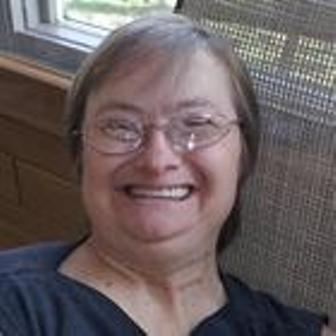 Kathleen Ann Berres left this earthly realm to join Jesus, her parents and many ancestors who were waiting for her pure spirit with open arms on September 28th, 2016. She was born on January 20th, 1961 in the city of West Bend,WI to Tony and Bernice Berres.
Kathy had an infectious laugh, a zest for living and an inquisitive mind; frequently setting new boundaries on what having Down Syndrome was all about. She was a natural swimmer, growing up near Regner Park where at a young age she learned to glide through the water with the greatest of ease. She became active in Special Olympics and earned countless medals in swimming, downhill skiing, bowling and bocce ball. Kathy also earned the privilege of participating in two International Special Olympic Games. One in Vermont where she met Julie Andrews and one in Alaska where she gave Arnold Schwarzenegger a high five! Her Special Olympics swimming coaches helped her perfect her strong butterfly stroke, one that would surely get Michael Phelps attention.
Being exposed to music since in utero, Kathy loved music of all types and would often be seen in the spotlight, at "Music on Main", church picnics and "Germanfest", kicking up her heels to any kind of music that was playing.
K.B., as her family and friends called her, completed school in West Bend and was employed at The Threshold for 30 years. She took pride in her work and enjoyed her relationships with co-workers, eagerly getting up and going to her job each day with a smile on her face.
Her sense of adventure was satiated through the many opportunities to travel with her family, throughout Wisconsin, the United States and internationally. Domestic travels included trips to Graceland, California, Alaska, Vermont, Colorado and New Mexico, to name just a few. Other treks included a cruise to Mexico where she got to see sting rays up close. Yet another cruise took her to the Bahamas introducing her to snorkeling among many irridescent tropical fish. Jamaica, Mazatlan and La Paz, Mexico were other places she enjoyed swimming, ethnic foods and culture.
Kathy was born with Down Syndrome, but it did not define who she was. It may have taken her longer to learn new things, but she had a clear sense of who she was. Often times she demanded her privacy to focus on writing poetry, which focused on the most important thing in her life, love. She had her own sense of fashion and style, meticulously laying out her wardrobe for the following day.
K.B. was a daughter, sister, aunt, great aunt and a true friend to many. She was a precious gift from God to our family and the world to help teach us love, patience and compassion. As Alzheimer's took away her ability to walk, talk and care for herself- she continued to give gentle kisses.
Kathy was preceded in eternal life by her parents, Tony & Bernice Berres. She is survived by her siblings Donald Berres of Kewaskum, WI; Emily Berres (Rick L'Amie) of Greenfield, WI; Jeannie Berres of Big Lake, AK and Mark Berres (Martha Schenk) of Banning, CA. Further survivors are nieces Michelle (Steve) Kritner of Hartland, WI; Cheri (Tony) Montag of Little Chute, WI; Meghan & Gabriel Berres of Banning, CA, great nieces and nephews Halie & Devin Kritner and Lucas & Kaitlyn Montag.
K.B.'s siblings would like to send out a special thanks to: Dr. Chicoine, Seasons Hospice, especially Tracie (RN), Wendy (Social Worker) and Kasa (CHPNA) for the loving care and support they provided.
In lieu of flowers, donations in her memory can be sent to The Threshold, Inc., 600 Rolfs Avenue, West Bend, WI 53090.
A viewing will be held on Monday, October 3, 2016 at Holy Angels Church in West Bend, from 4 to 6pm. A Mass will follow. A light meal will be served afterward in the Walnut Room at Holy Angels. All who knew and loved Kathy are welcome to celebrate her life with us.
The Schmidt Funeral Home in West Bend is serving the family.
Online guestbook and condolences are available at www.schmidtfuneralhome.com