Obit: Kenneth Herther, 81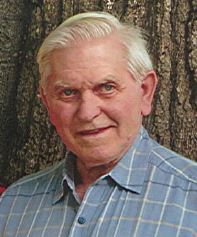 Kenneth A. Herther "Kenny," age 81 of Slinger, Wisconsin passed away peacefully on Friday, January 15, 2016 at Cedar Community in West Bend, WI after his third courageous battle of cancer and other diseases.
Ken was born on June 11, 1934 on the family farm homestead in Slinger, WI to Henry Sr. and Frieda M. (Nee Krueger) Herther. He was the step-son of William "Bill" Eckert, and the youngest of six boys. He was baptized on July 29, 1934 at St. John's Evangelical Reformed Church in Slinger, WI which is now Faith United Church of Christ. He was confirmed on May 18, 1947 at St. John's Evangelical Reformed/ St. Paul's Church in Ackerville, WI. He attended Werner Pond School, Cooney River School, Hartford Union High School for two years, and Slinger High School where he was involved in football and the Future Farmers of America.
He was united in marriage to Joyce Schlafer on May 24, 1958 at St. Jacobi Church in Richfield, WI. Ken was the fourth generation on the family farm which he owned and operated with Joyce for over 40 years.
They retired and moved from the farm in 1993 and his youngest daughter and family took ownership. Ken continued to work various jobs at Leisner Top Soil, Goeman Wood Products, and for other dairy and horse farms in the area.
Ken served on: the council and choir at St. Jacobi Church, the Washington County Farm Bureau Director for six years, Tri County Dart-ball League from (1958-1997), Wauzaukee Dart-ball League (1998-2012), and the Faith Cemetery Committee.  In 2006 he joined the 1022 Club in Hartford, WI which he loved to attend several days a week.
He enjoyed listening to polka, country music and the WTKM radio station. He also enjoyed watching Milwaukee Brewer Baseball and Green Bay Packer games, among other sports on T.V. or on the radio.  He especially enjoyed spending time with his family, playing baseball with his girls and grandkids, woodworking, attending the grandkids sporting events and church/ school programs. Ken also liked visiting with friends and family and traveling to HI, Chicago, IL, Duluth, MN, OH, and Phoenix, AZ among many farm progress shows in the state of WI.
Ken is survived by his beloved wife of 58 years, Joyce Herther; cherished children, Sandra "Sandy" (Daniel) Neuburg of Slinger and Susan "Sue" (William) Nehm, both of Slinger; the light of his life grandchildren, Sarah (Tom) Belk, Katelyn (friend, Cody Grudzinski) Neuburg, Cheryl (Marcus) Asmus, Scott and Curtis Nehm; cherished great grandchild, McKinley Belk; special cousin-in-law, Art Swede; and dear siblings-in-law, Charles Naab, Viola, Sylvia, and Caroline Herther, and Euneva Novotny. He is further survived by many nieces, nephews, other loved relatives and friends.
He was preceded in death by his parents, Henry Sr. (Frieda) Herther; step-father, Bill Eckert; siblings, Merlin, LeRoy (Edith), Harold, Henry Jr. (Phyllis), and Norbert Herther; siblings-in-law, Karen Naab and Franklin Novotny Sr.; and his infant granddaughter, Stacey Lynn Neuburg.
Funeral services for Ken will be held on Saturday, January 23, 2016 at 2:00 p.m. at Faith U.C.C. (2895 Slinger Road Slinger, WI 53086) with Pastor Sharon Stier officiating. Ken's family will greet relatives and friends at church on Saturday from 11:00 a.m.-1:30p.m.  Interment in Faith Cemetery Slinger, WI.
In lieu of flowers, memorial contributions to: Faith U.C.C. in Slinger, WI, the Hartford/Slinger Relay-For Life (P.O. Box 902 Pewaukee, WI 53072), the 1022 Club (1022 Sell Drive Hartford, WI 53027), or to Cedar Community (5595 County Road Z West Bend, WI 53095) would be greatly appreciated.
The Herther Family would like to thank Pastor Sharon Stier, Patty Thurloff and the staff at the 1022 Club, the doctors, nurses and staff at the Aurora Medical Center and Cedar Community Countryside and Cedar Hospice for all of the wonderful care given to Ken and his family.