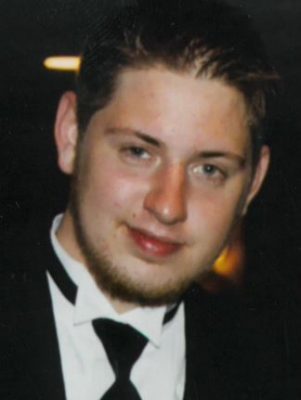 August 10, 2017 – West Bend, WI – Kenneth "Kenny" C. Dickmann, 36, passed away on Wednesday, August 9, 2017.  He was born on August 27, 1980 in West Allis.  He graduated from West Bend East High School Class of 1998 and attended Universal Technical Institute in Illinois.
He was an avid sports fan and especially liked watching the Milwaukee Bucks and Green Bay Packers.  He enjoyed fishing and camping.  Above all, he loved to spend time with his son, Bradley.
Kenny is survived by his father Theodore "Paul" (Mary) Dickmann; son Bradley; Bradley's mother Katie Johnson (nee Andrews); step-sisters, Julie (Brandon) Sarg, Kristy (Jacob) Schrinsky; nephews Aiden, Max, and Ben.  He is further survived by aunts, uncles, cousins, other relatives and friends.
He is preceded in death by his mother, Barbara (nee Lewendowski); grandparents Ted (Ora) Dickmann, John (Lynn) Lewendowski, and Felicia Lewendowski.
The Memorial Service will be held on Thursday, August 17, 2017 at 6:00 PM at the Phillip Funeral Home Chapel (1420 W Paradise Drive, West Bend).  The Visitation will be held at the funeral home on Thursday, August 17 from 3:00 PM until the time of service at 6:00 PM.
"Kenny, we will miss you."