Obit: Larry Ray Toraason, 65, of Slinger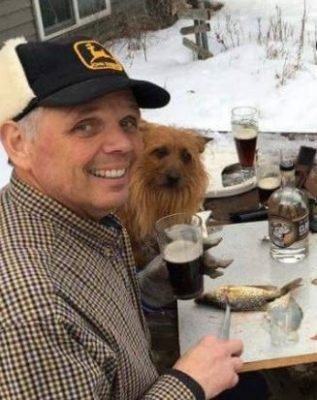 Sept. 19, 2017 – Slinger, WI – Larry battled leukemia for just over a year, staying his ever hopeful and positive self, finding strength in his friends and family.
Larry passed away at Aurora VNA Zilber Family Hospice in Milwaukee on Sept 17, 2017. Larry was born in Whitehall, Wisconsin on July 27, 1952.
He graduated from Blair High School, received his bachelor's degree from UW Stout, and was employed at John Deer as an engineer.
He married Dana Huenemann on Sept. 29, 1988. He and Dana had three children: their son, Erik, and twin daughters, Inger and Claire. Larry was a member of St. Luke Lutheran Church in Slinger, Wisconsin. He also loved taking time to brew beer, hunt, fish, and care for his beloved dog Roo.
Larry is survived by his son Erik (Eugene, OR), daughters Inger and Claire (UW Madison), sister Diane Toraason (Berlin, WI), brother Ron Toraason (Gay) (Concord, CA), mother Lorraine Toraason (West Bend, WI), very special friend Mary Loomis (Greendale, WI), sister-in-law Jane Tew (West Des Moines, IA), brother-in-law Paul Huenemann (Chris) (Cedar Rapids, IA), brother-in-law Charlie Huenemann (Jeannine) (Logan, UT), and stepmother-in-law Mary Lou Huenemann (West Bend, WI), as well as many nieces, nephews, and friends.
He was preceded in death by his wife Dana Toraason and his father Lyman Toraason.
On Saturday, September 23, 2017 at St. Luke Lutheran Church (4860 Arthur Rd, Slinger, WI 53086) there will be a visitation beginning at 10 a.m., followed by a memorial service at noon and a luncheon after the service.  Memorials may be sent to the Leukemia & Lymphoma Society (200 S Executive Drive #203, Brookfield, WI  53005).