Obit: LaVerne R. Risch (nee Rosenthal), 93, of West Bend. She met husband Don playing tennis, and it was love-love ever since.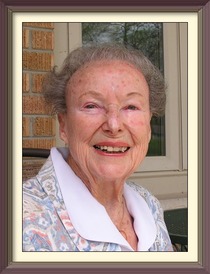 March 22, 2017 – West Bend, WI – LaVerne R. Risch (nee Rosenthal), age 93 years passed away Sunday, March 19, 2017 at Cedar Community.  LaVerne was born on December 29, 1923 in Milwaukee to Edgar and Renee (nee Wyler) Rosenthal.  She married the late Donald Risch in 1946.
During their 67 years together, they raised three children:  Gary (Karin), Bonnie (Norman) Leifer and Linde (Scott) Hinkel.  She is further survived by her grandchildren Jay (Kris) Risch, Mackenzie, Brian, Kevin, Jared (Heather) Hinkel, and Kelsey (Erik) Johnson, 5 great-grandchildren, nieces, nephews, other relatives and friends.
LaVerne is a Graduate of Milwaukee State Teachers College and a member of Kappa Delta Pi, national honor fraternity in education.  She traded in being a loving kindergarten teacher for being a loving, devoted mother and wife.  Her children could always count on her being home for them and giving them the time and attention they needed.  They felt very loved and secure.  She showed them the joys of living with the Lord.
She met husband Don playing tennis, and it was love-love ever since.  They enjoyed their lives together sharing all the joy and pleasure life brought them.  They were truly devoted partners in caring for the 67 years plus the 5 years before marriage!
As a senior citizen, she continued to show her love, appreciation and generosity to others.  Her belief and determination to thrive was with her to the very end.  She has been an inspiration to all she met!
She will be dearly missed by family, friends, and anyone who met her–she is the lady who left a loving impression.
A Memorial Service for LaVerne will be at 11:00 am on Friday, March 24, 2017 at the Phillip Funeral Home Chapel of West Bend with Rev. Kathryn Kuhn presiding.  Visitation will be at the funeral home on Friday, March 24 from 10:00 am until time of service (11:00 am).  In lieu of flowers, memorials are appreciated to Partners in Caring of Cedar Community (113 Cedar Ridge Dr., West Bend, WI  53095).
The family would like to extend their gratitude to the Cedar Community for all their caring, friendship, and assistance they experienced throughout her 30 years of residency.