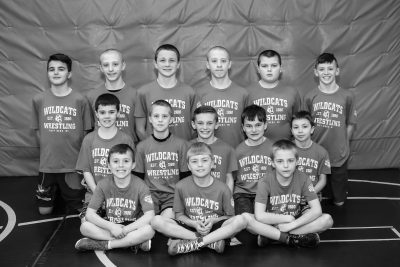 March 22, 2017 – West Bend, WI – There are 14 members of the West Bend Wildcats Youth Wrestling Club that will be going to compete at State this weekend, March 24 and 25. The Wildcats will be wrestling at the Alliant Energy Center in Madison.
The Wisconsin Wrestling Federation Kids State Folkstyle State Championships will be held in Veterans Memorial Coliseum.
State championship participants must qualify for this event by placing in the top two in their respective age and weight division at any of the eight qualifier tournaments.
The community can cheer on the Wildcats success and track their progress in real time at 
trackwrestling.com
First row: Tyson Renken 105lbs, Connor Mirasola 110lbs, Crosby Schlosser 115lbs, Cole Mirasola 115lbs, Gavin Jeske 150lbs, Cael Pionkowski 80lbs. Second row: Davis Rowley 66 lbs, Ben Bast 67 lbs, Liam Pionkowski 70 lbs, Brandon Much 75 lbs, Ethan Immel 60 lbs. Third row: Colton Kainz 57 lbs, Ethan Bast 63 lbs, James Racer 66 lbs.