Obit: Linda Inkmann-Acker, 54.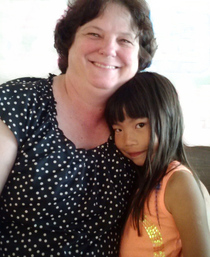 Feb. 18, 2017 – West Bend, WI – On Feb. 17 Linda Inkmann-Acker, age 54, left this world for a better one. Her battle with cancer over, she is at peace.
Family first and always, Linda was happiest when she was holding a baby on her lap. To her nephews and nieces she was a stability for them to depend on. To her siblings she was the electricity that ran the laughs of family functions, as well as the light in the darkness during times of challenge. To her twin Lisa, she is the soulmate that speaks without words and loves without fail.
To her daughter she was that warm hug and soft, "To the moon and back," said with love. To her husband, she was his constant companion through calm seas and rough waters. To her friends, she was the rock of their relationship, always there with a helping hand or a kind word. Always a shoulder to lean on, her caring is what many of us will miss the most about our Bella Linda.  She blessed all who knew her with kindness and a smile that no one will ever forget.
She is survived by her husband Steve, daughter Kaylee, sister Susan/John Rushmer III, her brothers Thomas Inkmann and Michael/Carol Inkmann, sister Lisa/Michael Nasinnyk as well as a cast of family and friends.
She is preceded in death by her mother Leona Inkmann; father Lawrence Inkmann and sister Laurie Inkmann.
Services will be held on February 22nd at the Phillip Funeral Home Chapel, 1420 W Paradise Dr, West Bend, WI 53095.   Visitation is from 4:00 until 7:00, with services to follow. In lieu of flowers, we ask that you offer donations for Linda's daughter's college fund.
"Good light little lamb."