Obit: Margaret M. Parish, 75, of Fond du Lac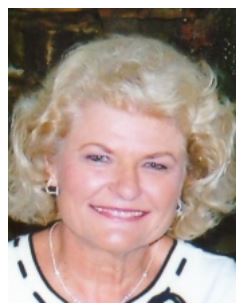 Feb. 23, 2018 – Fond du Lac, WI – Margaret M. Parish, 75, died Wednesday, February 21, 2018 at the Artisan House in Fond du Lac. She was born in Fond du Lac on September 7, 1942 to Raymond and Bernadette (Gross) Puddy. On September 9, 1961, Margaret married David Parish at St. Patrick's church in Fond du Lac. He preceded her in death on August 20, 1998.
Margaret currently attended Edgewood Church, was a former member of Community Church, and was initially a member of St. Patrick's Catholic Church, all located in Fond du Lac. In addition to living in Fond du Lac, she resided in California, Texas and Georgia, before moving to Cape Canaveral, FL in 2000. Margaret was a past member of the Optimist Club of Cocoa Beach, FL and volunteered at the hospital in Cape Canaveral. She spent her career as a clerical receptionist primarily working for various manufacturing companies.
Survivors include four sons, Michael (Kathryn) of Mayville, Robert (Kathleen) of Fond du Lac, John of Neenah and Brian (Julie) of Cumming, GA; eleven grandchildren, Kevin (Tricia), Sean (Jane), Zackary (Kelly), Brenton (Beth), Shane (fiancée Anna), Bailey, Christopher, Katelyn, Caleb, Colby and Keegan; seven great-grandchildren, Owen, Anna, Andrew, Claire, Jacee, Jaden and Aiden; sister, Michelle (Jerry) Schneider; brother-in-law, Thomas Lemke; nieces, nephews, other relatives and friends. She was preceded in death by her parents; her husband, David; and a sister, Kathryn Lemke. 
Visitation will be held Saturday, February 24, 2018 from 3:00 PM – 8:00 PM at Uecker-Witt Funeral Home, 524 N. Park Ave. in Fond du Lac. A funeral service will be held Sunday, February 25, 2018 beginning at 3:00 PM at Community Church, N6717 Streblow Dr. in Fond du Lac. Visitation at the church will begin at 2:00 PM and continue until the time of services. Private family burial in Calvary Cemetery in Fond du Lac will be held on Monday, February 26, 2018.
The family wishes to thank the staff at the Artisan Assisted Living House for their care and compassion of Margaret.