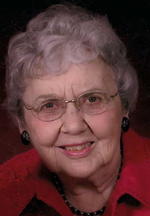 Jan. 24, 2018 – West Bend, WI – Marguerite Robrahn Heisler (nee Euler) passed away peacefully sleeping in her favorite chair on January 22, 2018. She was born on May 22, 1920 to Alfred and Anne Euler in Milwaukee, WI.
Her father died when she was 2 years old. She had one sister, Ellen and they were raised by their mother in Milwaukee and learned to work hard at a young age helping her mother make it thru hard times.
Marge graduated from Washington High School and later worked as a secretary until she married Harvey Robrahn on May 26, 1945 in Milwaukee.
They had two children and in 1954 they moved to Little Cedar Lake to a house that Harvey built. Harvey died on December 9, 1969. Marge worked at J.C. Penny's in West Bend for 25 years where she could indulge in her love of fashion. She always had a flair for dressing in the latest styles.
In 1971, Marge married Leo Heisler (a 40-year-old bachelor) and they were happily married for 46 years. She was a charter member of Our Savior's Lutheran Church in which she was very active, serving as president of several groups and committees and teaching Sunday school.
Her faith in God was unshakeable. She enjoyed reading until her eyes couldn't do it anymore. She volunteered at the Cedar Lake Campus, often driving old people around.
The truth be told, she was older than most of them. She was an avid bridge player belonging to several bridge clubs as well as many breakfast clubs and social groups. She was a great cook, loved to dance and swim, but had to give up swimming when they moved from the lake (still did it in her 80's).
Marge was a very creative person and loved to tell jokes and her laugh was infectious. In 2006 she and Leo moved to a condo in West Bend which they loved and were blessed with wonderful neighbors.
Marge and Leo were a common sight at Panera's where they made many friends, as they were there every day, even had their own table. Most of all, Marge loved her family, seldom missing any events they were in. She was proud to be the grandma of six grandchildren and five great-grandchildren. Her family was always first.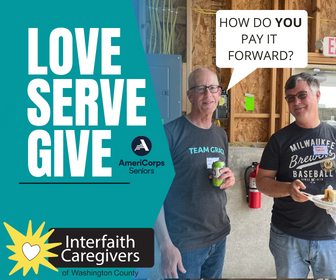 Marge is survived by her husband Leo, 2 children; Jayne (Robin) Reis and Robbie (Jean) Robrahn,
6 grandchildren; Melissa (Jeff) Utschig, Andrew (Nancy) Reis, John (Kammie) Reis, Jessica (Nicholas) Schmidt, Matthew (Jenny) Robrahn, Jacob (Allie Deming) Robrahn, 5 great-grandchildren; Maxwell and Griffin Reis, CeCe Schmidt, Lucas and Tyler Robrahn, her sister Ellen Ferguson, sisters-in-law; Laura, Dolores and Mary Heisler, nieces, nephews other relatives and friends. She was preceded in death by her parents, first husband Harvey Robrahn, brothers-in-law; Don Ferguson, John and Jim Heisler, sisters-in-law; Marie (Werner) Hug and Virginia Heisler.
A Memorial Service for Marguerite will be held 12 pm Saturday January 27 at Our Savior's Lutheran Church (1044 S Silverbrook Dr. West Bend) with Pastor Darin Wiebe presiding. Visitation will be at the church on Saturday from 10:00 am until time of service. Interment will be at a later date at Washington County Memorial Park.
Memorials to Our Savior's Lutheran Church are appreciated.