Obit: Mark B. Hoeft, 73, Port Washington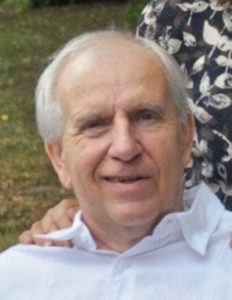 Mark Hoeft, a lifelong resident of Port Washington, passed away peacefully surrounded by his loving family in the morning hours of Thursday, September 08, 2016 at Forest Haven in Fredonia. He was 73 years old.
Mark was born on July 8, 1943 in Port Washington, son of Clarence Hoeft and Loretta Schreiner Hoeft. He grew up in Port Washington, graduating from Port Washington High School in 1961. On June 23, 1962, he married Donna Quader at St. Mary's Catholic Church in Port Washington.
Mark had a passion for cars, working at Schmit Bros. Ford and later managed P.J. Kaufmann Foreign Auto Parts and H.N.B. Auto Parts, both in Milwaukee. In 1970, Mark started Four Seasons Sales and Service, a Simplicity outdoor power dealership in Port Washington. In the early 1980's he purchased and ran Ideal Equipment Co., an irrigation business. Both businesses were true family businesses, involving not only Mark's parents, but his wife and all five of their children. Mark made many lifelong friendships through Simplicity and taking care of his many customers. He truly loved what he did. He stayed active at Four Seasons until a stroke caused him to retire in 2011.
He was a lifelong and active member of St. Mary's Catholic Church (now St. John's XXIII). Mark was a past president of the Parish Finance Committee and helped with anything needed around the church. Mark also enjoyed being a scout leader for his children, playing softball, bowling, golfing, snowmobiling, and especially working on and collecting classic cars.
Mark is survived by his wife Donna of Port Washington, his three sons: Brian Hoeft of Port Washington, Brad (Sue) Hoeft of Port Washington, and Brent (Anne) Hoeft of Fitchburg, and his twin daughters Bonnie (Michael) Penkwitz and Barbara Kaja both of Port Washington, and Joseph Kaja of Port Washington. He is further survived by six grandchildren: Maria, Sydney, Sam, Sierra, Evan and Julia, one sister Mary (the late George) Neidermeyer of Saukville, one brother-in-law David (Suzy) Quader of Bowie, MD other relatives and friends. He is preceded in death by his parents Clarence and Loretta, and his grandson Collin.
A Mass of Christian Burial will be celebrated on Tuesday, September 13th at 6:30 PM at St. John XXIII Parish-St. Mary's Church, 430 N. Johnson St. Port Washington. Father Don Zerkel will preside over Mass. He will be laid to rest at St. Mary's Cemetery, Port Washington. Visitation will take place at the CHURCH on Tuesday, September 13th from 3:30-6:15 PM.