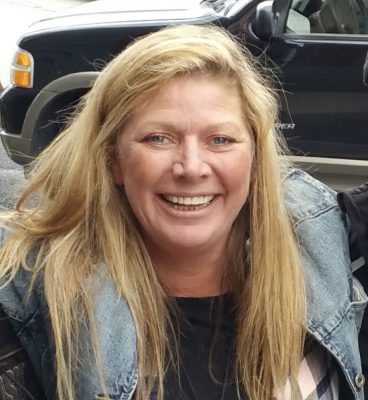 August 30, 2018 – Waldo, WI – Mary A. Steger, 52, Waldo, WI, died of cancer August 18, 2018 at the Sharon S. Richardson Hospice, Sheboygan Falls, WI.  
She was born March 3, 1966 to Joseph and Eileen (Slavik) Steger in West Bend, WI.
She was a hard working single mother who raised her son Paul on her own.  She was a bohemian plant whisperer who could make anything grow.  She had the best laugh and the biggest heart.  She would say the things we might think, but weren't brave enough to actually express.  She loved the simple things in life; a sunny day, loud music, a clean house, a cold beer, good food, and the people around her.  She was the first to tell you about a restaurant that she knew you would love or share some new snack that she tried.  She spent time making stained glass with her love Roger, decorating and redecorating her house, gardening, and tending to her myriad of interior plants. 
Mary was the cool Aunt, the fun Granny, the crazy friend, the embarrassing mom, and the most giving, thoughtful person in the room.  She was the person you wanted on your side; she listened, gave advice that came from the heart, and she accepted you.  Mary will be deeply missed by her family and friends. 
She is survived by long-time significant other Roger "Rabbit" Bria, Waldo, WI, her Son Paul (Sara Webb) Steger, Granddaughters Halle and Reese Steger,  Longmont, CO, Mother Eileen Steger, Hartford, WI,  Siblings John, Lori, Sharon, Ron, Jane, Dot, Joey, and Diane, aunts and uncles, and many nieces and nephews. 
She was preceded in death by her father Joseph and brother Tony Steger.
The family thanks the beautiful staff at Sharon S. Richardson hospice for their care of Mary and her family.  Flowers may be sent to Roger Bria at W5048 County Road F, Waldo, WI 53093.
A celebration of Mary's life will be held at the Deland Community Center, 901 Broughton Dr., Sheboygan, WI, on Thursday, 30 August, at 4:30 p.m.