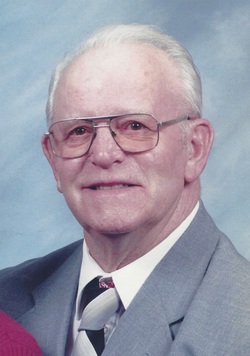 Mathias Klumpyan, 88, formerly of Eden passed away peacefully Thursday, Sept. 29, 2016 at Artisan Suites in Fond du Lac surrounded by his beloved family. He was born in Fond du Lac on July 13, 1928, the son of Mathias and Agatha (nee Schill) Klumpyan. Matt served in the U. S. Navy from 1945 to 1949.  On June 2, 1951, Matt married Helen J. Riggs at St. Martin Catholic Church in Ashford. He worked at Fond du Lac Stone as a stone cutter and foreman for 37 years. He was a member of Shepherd of the Hills Parish, the Fond du Lac Knights of Columbus and the Tier-Puddy American Legion Post #75.  Matt was a jack of all trades doing masonry, carpentry and building houses with his dad.  He was proud of his skills as a stone cutter doing many projects and enjoyed restoring old tractors and playing cribbage and sheepshead.
Matt is survived by his children Sue Klumpyan of Fond du Lac, Steve (Barb) Klumpyan of Campbellsport, Terry (Paula) Klumpyan of Plymouth, Linda Klumpyan of Fond du Lac, Brian (Tami) Klumpyan of Campbellsport, Lisa (Steve) Gilles of St. Cloud and Darin Klumpyan of Racine, his grandchildren Carolynn (Dan) Gellings, Kaitlyn (Mike) Copp, Mindy (Cody) Immel, Justin Klumpyan, Megan, Makayla and Morgan Klumpyan and Melissa, Seth and Molly Gilles, his great grandchildren Jayden, Jailee, Shaelyn and Bryson Immel and Shaelyn Urbanek, his brothers-in-law Donald Riggs, Ronald (Dianne) Riggs, Robert Riggs and Melvin (Shirley) Riggs, his sisters-in-law Anita Priest and Jean Nelson, nieces, nephews, other relatives and friends.
Matt was preceded in death by his wife Helen on Aug. 17, 2001, his parents, his sisters Rita Stoffel, Shirley Stoffel and Betty Albrecht, his sisters-in-law Alice Lorenz and Kathryn Riggs, his brothers-in-law Roger Riggs, Gordon Riggs and James Riggs, Jr. and his special cousin Ervin Klumpyan.
Mass of Christian Burial will be Tuesday, Oct. 4th at 6:00 PM at Shepherd of the Hills Catholic Church, W1562 Hwy B, Eden.  Rev. Mark Jones will officiate with cremation to follow and inurnment in St. Mary's Cemetery at a later date.
Visitation will be Tuesday Oct. 4th at the CHURCH from 3:00 PM until time of Mass. Memorials are appreciated to Shepherd of the Hills Parish.