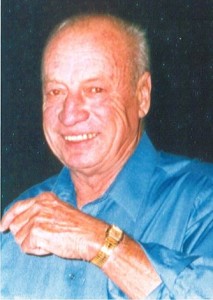 Melvin M. "Mike" Frank, age 88 of Hartford, Wisconsin passed away on Thursday, March 24, 2016, peacefully at his home, surrounded by loved ones.
Mike was born on November 2, 1927 at Browns Corners, WI, the son Eddie and Tillie Frank. On March 2, 1957, Mike was united in marriage to Bernice Koch in Dubuque, Iowa. After high school, Mike was in the Army from January, 1946 until November, 1946 and then enlisted in the U.S. Marine Corp from June, 1948 to June, 1951. He joined the Local 8 bricklayers Union in 1959 and retired in 1984.
Mike was known for his boisterous personality and he could also make you laugh. He loved to make bets about trivia and always thought he was right. He was hard-of-hearing but somehow knew what you said. He enjoyed bullhead fishing, playing cards, and gardening.
Those who will always remember and love Mike are his children, David (Sue) Volk, Mary (Steve),Brath, Mike, Mark (Sue) and Jacqueline (Dale), his beloved friend and caretaker Janie, sister, AnnaMae (Frank) Marrese, sister-in-law Donna Koch, along with 6 grandchildren and 7 great grandchildren, nephews, nieces and cousins.
In addition to his parents, Mike was preceded in death by his wife Bernice, his sisters, Amanda Quandt, Delores Margelofsky and Marriane Margelowsky, and parents-in-law John and RubyKoch.
Funeral Services for Mike will be held on Thursday, March 31, 2016 at 6:00 p.m. at Shimon Funeral Home (824 Union St. Hartford, WI 53027). The Frank family will greet relatives and friends at Shimon Funeral Home on Thursday from 3:00p.m.-until the 6:00 p.m. service.  Military funeral rites will be conducted at 6:00 p.m.
Interment held at St. Kilian Cemetery, Hartford, WI.