Obit: Merrit William Buckman, 92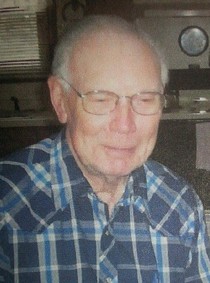 Merrit (Marty) William Buckman, age 92, passed away Monday, February 22, 2016 with family by his side.  He was born to Roy and Dora (Nee Gust) Buckman on July 20, 1923.  He married Helen Back on May 31, 1944.  Helen passed away on March 2, 1946. He later met Lois Wolever and they were married on September 11, 1948. Marty and Lois went on to have 10 children.  Lois passed away on August 19, 2012.
Merrit served in World War II from September 30, 1942 to June of 1943.  Marty was a machinist and retired from P&H Harnischfeger.  He enjoyed being a Boy Scout Leader and volunteered for the Washington County Mental Health Center as a supportive care worker.  He will be sadly missed by all who knew him and his big heart.
Merrit is survived by his children, Susan (Mike) Fischer, Lawrence (Anita), Paul (Annette), Michael, Mary (Paul) Fahey, Anthony (fiancé, Lisa), Andrew (Linda), Janet Josephson and Catherine Deluisa (fiancé, Kevin). He is further survived by 23 grandchildren, 20 great-grandchildren and his sister Patricia Conger; nieces, nephews, other relatives and friends.
He is preceded in death by one son, one grandson, one great-grandson; brothers, Allen and Roy; sister, Jane Chappell; brother-in-law Clem (Grace) Wolever, Wayne Conger and sister-in-law Judith (Gerald) Schutta;
A Mass of Christian Burial will be held at 10:00AM on Friday, February 26, 2016 at St. Stanislaus Catholic Church (524 W. Historic Mitchell St. Milwaukee, WI) with Canon Jayr presiding. Visitation will be held at the Phillip Funeral Home (1420 W. Paradise Dr. West Bend, WI) on Thursday, February 25, 2016 from 5:00-7:00PM. Interment will be held at Washington County Memorial Park on February 26th, 2016.
A special thank you to the staff of Rosewood Manor in Grafton, WI.