Smarty pants Chess Club from St. Frances Cabrini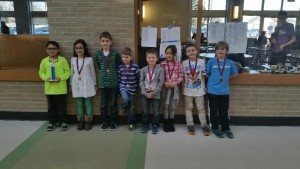 The Saint Frances Cabrini Chess Club attended the Nicolet High School tournament this past weekend. Two students were in the K6 division (4th-6th grade), and seven were in the K3 division (K5-3rd grade).
Aaron Ruplinger won 1st place in the K6 division individually!
He has been participating in chess tournaments since the beginning of the season and holds one of the top seats in his division in the WI Scholastic Chess in southeastern Wisconsin.
Cassie Erato is the coach and coordinator of this program for Saint Frances Cabrini.