Obit: Mildred "Millie" C. Krug (nee Baganz), 93, of West Bend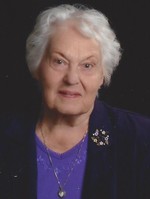 Nov. 27, 2017 – West Bend, WI – Mildred "Millie" C. Krug (nee Baganz), age 93, passed away on Saturday, November 25, 2017 at St. Joseph's Hospital in West Bend.
She was born on April 27, 1924 in the Town of Forest, WI to Ernest and Helen (nee Schubert) Baganz. She was a member of Good Shepherd Ev. Lutheran Church for about 25 years and a former member of Garden Homes in Milwaukee. She married Robert Krug on January 10, 1942 in Fond du Lac, WI. Millie enjoyed birds, gardens and flowers. She enjoyed cooking, baking and puzzles. She especially loved spending time with her family.
Millie is survived by her daughters, Mary (Kenneth) Kuester, Suzanne (Jerry) Dorst, Nancy (Harvey Jr.) Mehlos, Sharon Randazzo; grandchildren Diane Craft, Pam Helmig, Amy Kahn, Jeffrey (Julie) Kahn, Daniel (Clare) Kahn, Brenda (Don) Neumann, Michelle (Dirk) Smith, Jason (Michelle) Mehlos, Sarah (Tony) Rachow, Nick (Susan) Randazzo; 15 great-grandchildren and 2 great-great-grandchildren. She is further survived by nieces, nephews, other relatives and friends.
Millie is preceded in death by her parents, husband Robert, her son Edwin and her granddaughter Melissa Randazzo, 4 siblings, 7 siblings-in-law, nieces and nephews.
Visitation will be at Good Shepherd Ev. Lutheran Church (777 S. Indiana Ave. West Bend, WI 53095) on Thursday, November 30, 2017 from 5:00 PM until 8:00 PM. A second visitation will be at church on Friday, December 1, 2017 from 9:00 AM until the time of the Funeral Service at 10:00 AM with Pastor Robert Hein and Pastor Richard Lauersdorf presiding. Private Entombment at Ledgeview Memorial Park.
Memorials are appreciated to Good Shepherd Building Fund (777 S. Indiana Ave. West Bend, WI 53095) and WELS Christian Aid and Relief Fund (N16W23377 Stone Ridge Dr. Waukesha, WI 53188-1108).