Obit: Norman Alf, 94, West Bend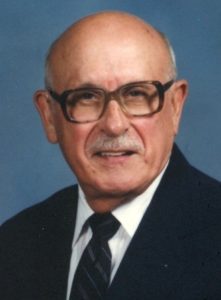 Norman Alff, 94 years old, died peacefully Friday, June 24th, at his home in the Cedar Community Cottages in West Bend, WI.
Norman was born November 13, 1921 in Columbus, WI to Arthur and Gertrude (Ibisch) Alff.  After his mother died when he was young, his father married Amanda Haemling who became his stepmother.
Norman graduated from Columbus High School in 1939 and joined the US Army in 1942.  Norm fought German forces in Northern Italy as a Communications Sergeant in the Rome-Arno, North Apennine, and Po Valley Campaigns from October 1942 to October 1945.  A land mine wounded him during the Rome-Arno Campaign. Norm retained shrapnel in his body for the rest of his life and suffered a severe hearing loss. He earned the Purple Heart, Bronze Star, and Combat Infantry Badge. Norm served in the Reserves after his active duty and made the rank of Captain before retiring from the army. Though he seldom talked about his war experiences, he had a lifelong commitment to the United Nations and its work to create peace throughout the world.
Norm wed the love of his life, Doris J. Busse, on May 31, 1947 and they raised four children during their 69 years of marriage.  Norm graduated from the University of Wisconsin-Madison with a degree in International Relations in 1948.  With his first child on the way, Norm took a management position with Fisher Body Division GMC in Janesville, WI. He was an efficiency expert and created a process for determining the appropriate manufacturing line sequence that the corporate office duplicated in other plants across the country. He worked at Fisher Body until he retired.
Norm and his wife enjoyed living 50 years in Janesville. He was active in Indian Guides, Boy Scouting and the United Church of Christ church ministry. His hobbies included camping, fishing, hiking, bird watching, and gardening. He enjoyed traveling with Dorrie to many other countries and throughout the US. He loved spending time with and hearing from family, relatives, and friends.
Survivors include his wife, Doris; his four children and their spouses, Greg (Jeanette) Alff of Bozeman, MT, Kit Alff and Scott Matteson of Kearney, NE, Carrie (Dave) Anderson of Janesville, WI, and Andy (Anne) Alff of Pflugerville, TX; seven grandchildren and seven great-grandchildren also survive Norm, as well as three foreign exchange students who lived with Norm and Dorrie, and many nieces and nephews.
Norm was preceded in death by his mother and father, Gertrude and Arthur Alff, as well as his stepmother, Amanda Alff; his brother, Roger and his sister-in-law, Betty.
A Memorial Service will be held on August 3rd at 11:30 AM at the Cedar Ridge Grand Hall, 113 Cedar Ridge Dr., West Bend.  Friends and family are invited. Norman's ashes will be by inurned by the family at the Cedar Community Memorial Garden.
In lieu of flowers, memorial gifts may be made in Norm's honor to Cedar Community Foundation, Immanuel Church in West Bend, UNICEF, or MAG America Inc..
A special thank you to the caring friends and staff of Cedar Community of West Bend, WI.